Construction has always been dangerous. Ancient builders met the challenge of jobsite injury by adding more men to the workforce, replacing the dead and injured. In modern times, the use of what is considered basic safety gear—such as hardhats and safety shoes—has only been accepted by the labor force in the recent past. In many ways, construction workers have had an image of being "cowboys" or "daredevils" at work.
Not so much anymore. Much of the difference can be related to changes in government policy, or more accurately, to the evolution of government policy. That evolution started in 1922 with the formation of the Bureau of Labor Standards and progressed to the enactment of the Occupational Safety and Health Act, signed by President Richard Nixon on Dec. 29, 1970. A new agency, the OSHA (Occupational Safety and Health Admin.), which is run by the Dept. of Labor, was opened for business in April of 1971.
The safety standards set out by OSHA for the construction industry specifies qualifications that must be satisfied on a jobsite, including security precautions, training and education, and what protective gear must be in use. Employers are required "to provide their employees with a workplace free from recognized hazards likely to cause death or serious physical harm."
And while that might seem logical, construction is a high hazard industry and all too often hazards are accepted as "part of the job." Construction workers engage in activities that expose them to serious hazards like falling from elevated surfaces, unguarded machinery, being struck by heavy equipment, electrocution, and exposure to dust, silica, asbestos, and other toxics.
Safety starts before the job starts. One of the most important aspects of a successful safety management plan for construction sites is effective communication. This includes workers, supervisors, and managers on-site from the prime contractor and subcontractors who may be working on the site at any given time. Communication needs to be clear and concise to understand the safety procedures and follow them.
Daily pre-task-planning cards or forms are safety checklists the employees fill out every day before starting work, or starting a new task during the day, or when moving to a new area of the project. They help employees identify hazards associated with the work they are performing in addition to identifying noncompliance and unsafe conditions in their work area. The employee fills out the form identifying any hazards associated with the task and what steps they are taking to eliminate or minimize the hazard.
As a tool for communications, guidelines and printed or electronic handbooks are one step. The Kilgore Companies guide, for example, explains why safety protocols are critical. Another critical element of a good safety management plan is a designated safety officer responsible for overseeing all aspects of the construction site. This person should have the authority to make decisions regarding safety procedures and develop them. They should also be responsible for maintaining safety equipment and ensuring workers are adequately trained.
In addition to having a designated safety officer, it is also essential to conduct regular site inspections to identify any potential hazards and ensure that everyone follows established safety protocols for the construction jobs. The designated safety officer can do this, but it may also be helpful to have a team of workers responsible for conducting these routine inspections.
The CPWR, an organization in construction safety, identified eight leading indicators of a safety climate: demonstrating management commitment; aligning and integrating safety as a value; ensuring accountability at all levels; improving site safety leadership; empowering and involving workers; improving communication; training at all levels; and encouraging owner/client involvement. It created a safety climate workbook and a rubric-based measurement tool called the S-CAT (Safety Climate Assessment Tool) that construction companies of any size could use to self-assess their level of safety maturity across the indicators and identify ways to continually improve along the spectrum from inattentive to exemplary in their efforts to strengthen jobsite safety climate.
Software companies are also innovating reporting and monitoring tools for construction safety. ProcessMAP spent two years developing a construction safety software that includes key capabilities such as incident management, audits management, sustainability management, risk assessment, hazard reporting and safety suggestions, behavior-based safety, training management, permit to work, all designed to mitigate risks and protect the workforce proactively.
The digital platform is equipped with preloaded inspections and audit checklists, safe work permit checklists, and other content to start quickly. Safety processes such as inspections, hazard observations, Tool Box Talks, incident reporting, safe work permits, and others, play a key role in driving safety at a construction project site.
ProcessMAP's construction safety platform has been deployed at more than 1,000 sites globally in the last two years with quantifiable results:
120% increase in hazard & near miss reporting
250% increase in asset and workplace inspections
100% safe work permits issued digitally over mobile solutions
140% reduction of lag time in reporting an incident in a year
300% increase in incident investigation completed within 24 hours
450% increase in total action items
44% increase in on time closure of action item
Training safety officers, supervisors, workers, and others is a time-intense requirement. As one contractor found out, it pays to pay for the time. Richard Wagner Enterprises in North Carolina reports, "We made it mandatory for all our field workers to pass the OSHA 10-hour safety class and any of our job foremen to pass the 30-hour class. We pay for the class, they take it in their off-time, and if they complete it within 30 days, we pay them a bonus equal to the 10 or 30 hours of class time. We also empower all our employees to stop working if an unsafe or hazardous condition arises anywhere on the jobsite."
What will the safety officer have to contend with? BigRentz, the nation's largest construction equipment rental network, publishes 25 Construction Safety Statistics and Trends to increase awareness of the challenges and opportunities associated with the industry. For their 2022 list, culled from statistics from CDC and the Bureau of Labor Statistics, the top five are:
1.1 in 5 deaths among U.S. workers is in the construction industry.
2. Of the 42 annual crane-related deaths, around 60% involve a falling object.
3. A total of 1,008 construction workers died on the job in 2020.
4. Each year, 10.2 of every 100,000 construction workers suffer a fatal injury, which is the third highest rate of any industry.
5. Falls account for 34% of all construction deaths and eliminating falls in construction would save more than 300 lives every year.
Work-related injuries have resulted in a loss of 104,000,000 production days for companies. One fatal injury costs an average of $991,027 in hospital costs. Companies are acknowledging the crisis and taking steps to reduce these horrible numbers.
Some construction safety tips are obvious: wear proper headgear, inspect equipment, display adequate signage, stay focused, stay hydrated, and promote open communication among teams. Putting the basics in place is the start since research shows that businesses can save $8 for every dollar spent on an effective health and safety program.
The next step, one more companies are taking rapidly is to find and implement technology solutions that add to the safety of the workers. This can be as simple as a safety harness and guy wires to prevent falls from scaffolding and high iron works to cloud-based applications for training and monitoring safety on the job.
The harness, which many workers consider uncomfortable and resist using, is only one of many wearables that can improve jobsite safety. Others include the more exotic exoskeleton. As noted by Trimble, exoskeletons come in powered and unpowered versions. Unpowered exoskeletons are primarily meant to redistribute loads and make heavy lifting easier. These devices can distribute weight to stronger muscles, so you don't strain weaker parts of the body. Powered exoskeletons take things one step further by using a network of sensors and motors to help workers when lifting heavy objects.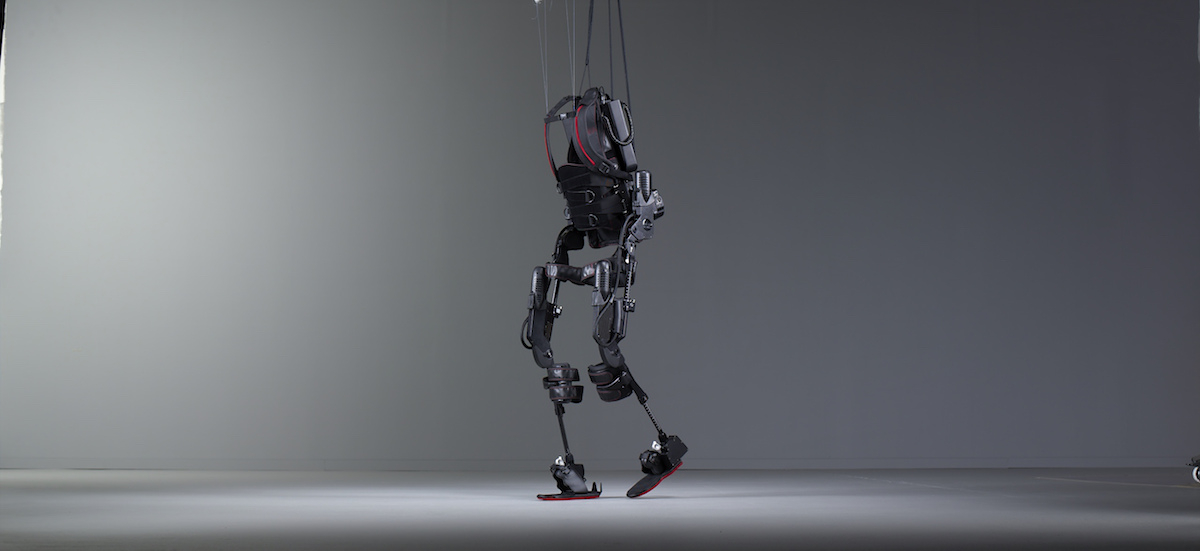 A few years ago, smart glasses were a fad for a while. Projecting information onto the lens of the glasses allows workers to get schematics and diagrams they need without going back and forth to the source documents in the trailer of remote location. Other visual wearables use an optical aid on or in hats or visors that enhance or promote visual images for the wearer. They improve efficiency because they allow fieldworkers to be hands-free while they work.
Monitoring the worker is also a valuable safety tool. Smart clothing has the ability to monitor vital signs, giving an early alert if an employee is suffering from fatigue or otherwise impaired. Wearable tools can analyze data and warn the worker of hazards. For example, they can be an attachment to hardhats, personal protection equipment, or safety glasses.
One wearable gaining interest is the Triax Spot-r Radius, a wearable that provides realtime preventative alerts and daily operational data insights, enabling companies to operate more safely and productively. It provides device-to-device connectivity, which has helped keep workers safe through social distancing and contact tracing at more than 275 worksites during the COVID-19 pandemic.
In addition to realtime safety alerts that proactively notify workers before entering hazardous areas or no-go zones, Spot-r Radius automates headcount and hours for daily reporting and labor billing verification; tracks equipment utilization; identifies bottlenecks causing inefficiencies on site; and supports social distancing and digital contact tracing, as needed. Its analytics' reports—automatically uploaded to the cloud at the end of each day—help organizations improve sitewide efficiency and measure workforce behavior.
Other wearables are being outfitted with biometrics and environmental sensors, GPS and location trackers, Wi-Fi, voltage detectors, and other sensors to monitor workers' movements, repetitive motions, posture, and slips and falls. With geofencing, construction supervisors can establish restricted areas that will sound an alarm if an employee enters a potentially dangerous area.
Universities and colleges are doing research into jobsite safety and adding the results to their courses. Capitol Technology University in Washington, DC is one where a variety of technologies for safety are taught. Virtual reality, for example, has the potential to make a major impact on safety and training in the construction industry. The platform is finding value for use in the construction industry on everything from operating cranes and excavators to doing welding and masonry work.
Similar to virtual reality, augmented reality has the ability to improve safety on the construction site. Workers could walk to a specific area of a jobsite and have a safety checklist, specific to the task at hand, pop up on a display integrated into a smart hard hat or safety goggles. With augmented reality, construction managers can monitor employee performance, offering tips for increased safety on the site.
Most of the tasks on a construction site have seen changes with more powerful and complex tools and machinery being implemented. To complicate the situation, consider the growth of construction immigrant workers, where the vast majority comes from Latin American countries. Besides agriculture, the construction industry is the top employer of immigrant workers who usually lack trade related skills and, more significantly, language skills. Research at the University of Massachusetts-Lowell found approximately one third of Hispanic construction workers speak only Spanish.
In the United States, construction has a larger share of Hispanic workers than any industry (18%), except agriculture (37%). Hispanic workers are in some ways overrepresented in their rates of work related fatal and non-fatal injuries and in their participation in high hazard industries. Drywall, tile, and concrete workers as well as painters, roofers, and laborers are the occupations with a significant participation of the Hispanic workforce.
The CDC indicates Hispanics make up an especially vulnerable population in the construction industry. Hispanic construction workers experience high rates of occupational injury, likely influenced by individual, organizational, and social factors. For example, even though Hispanic workers are only 29% of the construction workforce, they account for 39% of fatal falls to a lower level. Several factors may contribute to this disparity, including language barriers and discriminatory practices that create hazardous work environments for Hispanic workers.
It's true Hispanic workers bring with them varied histories, cultural sensibilities, strong health beliefs, and a different cultural background compared with non-Hispanic workers. English is not the first language of Hispanic workers and, consequently, their understanding of educational materials about safety at work will be significantly lower in comparison with native English speakers. This problem is aggravated by the fact that a small, but significant, portion of Hispanic workers are illiterate in their own language.
These factors point to the need for safety documents to be available in multiple languages, especially Spanish, when the jobsite employees are diverse. Selection of a simple, direct translation of safety materials, however, might communicate incorrect meanings. A safety coordinator fluent in Spanish (or other first languages used on the jobsite) would be a good investment, even if on a temporary basis.
In general, it is recognized that effective safety and health training and education of Hispanic workers should include programs that are developed in a language that is familiar to the workers, should be delivered in a learner centered environment, should be culturally sensitive, and should be accompanied by a true commitment to safety. Developing an effective way of disseminating materials on construction safety and health and assessing its impact should also prove beneficial.
Monitoring the jobsite for safety breeches requires labor or technology. Combining the two, by having a dedicated site observer equipped with technology can be an answer. One technology that can be used is the quadcopter or drone.
Drones are becoming increasingly important tools on construction sites. They're effective at surveying the worksite for any potential hazards and can be used to supervise workers to ensure they remain safe on the job. Because they can take photos and videos in realtime, you can maintain live updates of changing work conditions. For example, the drone can record wind speed, temperature, and pressure readings to ensure all workers are operating within a safe environment.
A similar technology is the CCTV camera that can be enhanced with AI (artificial intelligence). AI CCTV is an electronic device integrated with an AI chip for processing and enhancing its functionality, enabling them to accomplish various tasks such as face recognition, movement detection, people counting, perimeter detection (human vs animal differentiation), and stranger detection. According to Research and Markets, the global AI CCTV market size was valued at $14.83 billion in 2020, and is projected to reach $55.22 billion by 2030.
According to Megapixall, a security camera supplier to construction, CCTV benefits include the ability to stream images in realtime over Wi-Fi. Wireless cameras can be installed anywhere and moved easily and can be visible to encourage workers to attend to safety knowing they are being monitored.
There are also downsides to their use. Installed on site, a construction security camera is vulnerable to many more hazards when compared to other locations. Cameras monitoring constructions sites may very well be damaged by high winds, debris, sleet and snow, or heavy rain.
Faulty operated machinery is a common cause of accidents on construction sites. To eliminate the risk of human error in machine operation and maintenance, construction technology now features software applications that can be used to monitor safety in individual machines.
These safety-related software features allow operators to control the sway of heavy loads, adapt the lifting speed of machines to match the load, and more easily maintain important equipment. And because all data is collected and analyzed within a centralized software, you have more control over machine maintenance and operation on the worksite.
Not all hazards are easily recognized on the jobsite, nor can they be avoided through traditional safety protocols. The CDC (Centers for Disease Control and Prevention's) NIOSH (National Institute for Occupational Safety and Health) and the Bacterial Special Pathogens Branch describes cases of welder's anthrax, a newly identified, deadly occupational disease.
Several studies have shown an increased risk of pneumonia and death among welders and other workers exposed to metal fumes and mineral dusts. Research suggests it is possible that exposure to metal fumes might increase susceptibility to lung infection, even with common, relatively harmless infectious agents. Furthermore, iron oxide deposited in the lungs after inhaling welding fume has been found in the lungs for years, even after removal from exposure.
Welder's anthrax, for example, is defined as pneumonia in a metalworker caused by bacteria that produces anthrax toxin. Seven patients diagnosed with what is now termed welder's anthrax were reported to the CDC from 1994–2020.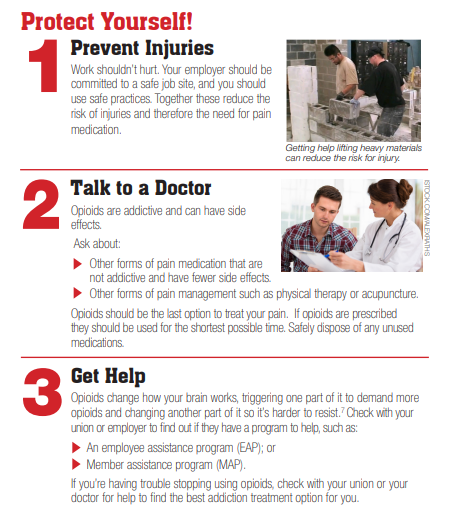 And perhaps the biggest safety issue is one that usually starts before the worker approaches the job. The "elephant in the room" on too many jobsites these days, and one that technology cannot eliminate, is drugs. Across all populations, demographics, and occupations, more than 250 lives were lost to drugs every day in the United States in 2020. A study published in July 2021 reported during the COVID pandemic the U.S. saw some of the deadliest months on record for the opioid overdose epidemic.
The CDC reports construction workers have been shown in many studies to have high rates of death from overdose compared to workers in other occupations. For example, a study in 2018 showed that, among all occupations, construction workers had the highest rate of death from overdose, including overdose from heroin.
In a recent study of workers compensation data from 27 states, mining and construction workers were more likely than workers in other industries to receive opioids when receiving a prescription for pain medication. Workers in very small companies, with payrolls of $4 million or less, are prescribed opioids more frequently than workers in larger ones. About 90% of construction companies have fewer than 20 employees.
Researchers have identified high rates of injuries in construction as a driver for the high prevalence of opioid use disorder among workers in the industry. About one-third of construction workers have at least one MSD (musculoskeletal disorder) and opioid prescription use is three times higher among construction workers with MSDs than those without an MSD. Construction workers who received opioids for reasons other than MSDs, such as kidney stones, stomach pain, and dental visits, were not found to have an increased risk of long-term use and opioid dependency.
Additionally, workers with broken bones, neurologic conditions in the arms (such as carpal tunnel syndrome), and neurologic spinal pain are most likely to receive an opioid when getting a prescription for pain medicine. Younger workers are more likely to use illicit drugs whereas older workers are more likely to use prescribed opioids.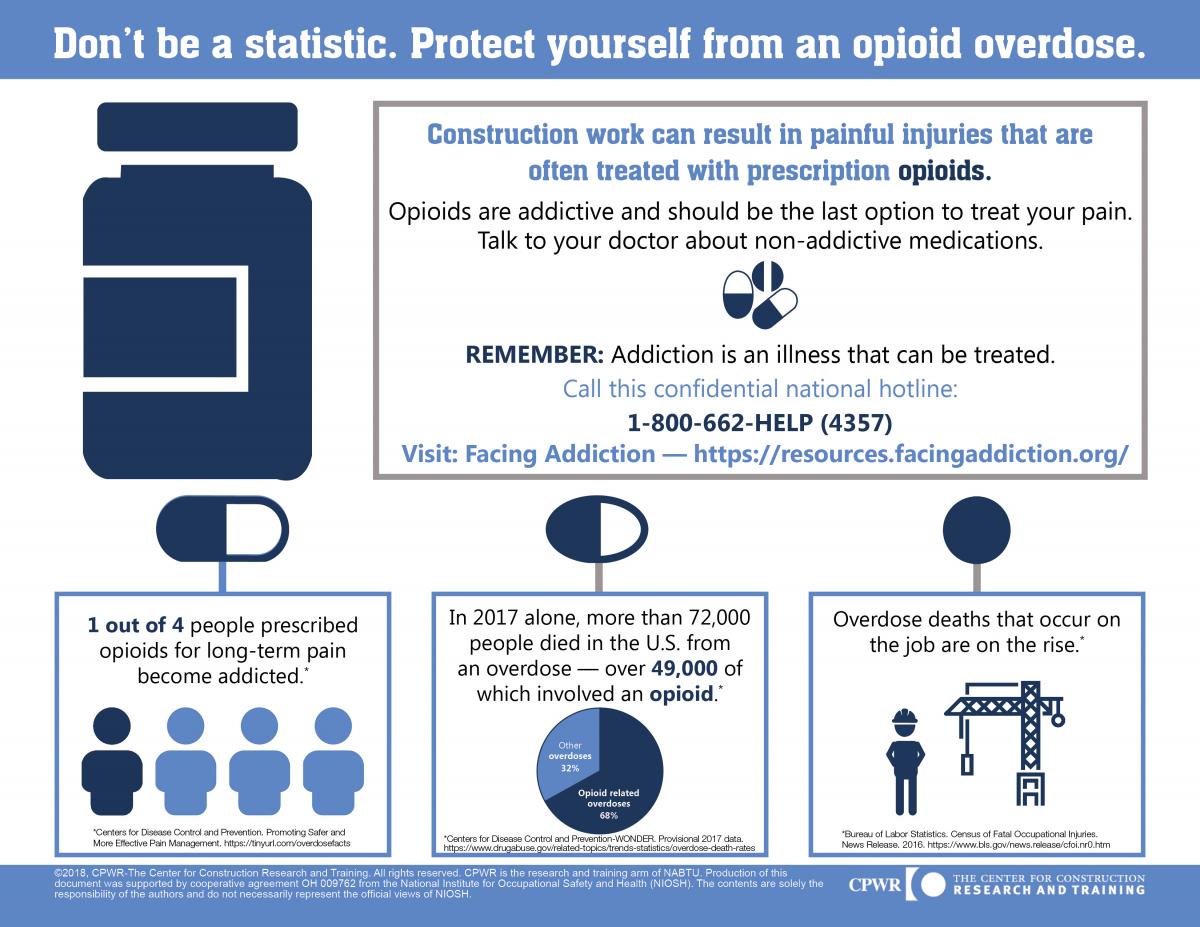 The researchers found construction workers prescribed opioids for musculoskeletal pain had a higher risk for long‐term opioid use and for developing opioid use disorder. Annually, 15% of workers who were prescribed opioids became long‐term users. They also found long-term users were nearly 10 times as likely to develop opioid use disorder.
So, safety on the jobsite can be enhanced by careful application of communications, monitoring, and personnel. It can be augmented by traditional technology and cutting-edge technology. It can be improved by recognizing the diversity of today's construction industry and providing appropriate training, in the languages and cultural forms that are needed. It can be increased by noting and dealing with the growing drug problem caused by injuries treated with opioids.
It can be all these things, but it can't be ignored.
Want to tweet about this article? Use hashtags #construction #sustainability #infrastructure #IoT #AI #cloud #edge #futureofwork