For decades, automobile manufacturers have touted the benefits of multiple models on a single "platform." Technology vendors similarly talk about their "platform" instead of their individual programs or apps. The underlying kernel can be used to layer a variety of applications on top to perform a number of different functions while assuring integration among those applications.
In the construction technology field, Topcon Positioning Group is a good example of using its platform across a number of functions. Its MC-Max machine-control solution, based on the MC-X machine-control platform, and backed by Sitelink3D — the company's real-time, cloud-based data management ecosystem —is a scalable solution for mixed-fleet heavy equipment environments. It is designed to adapt to the owners' machine control and data integration needs as their fleets and workflows expand.
MC-Max increases processing power, speed, accuracy, versatility, and reliability; and can be installed on a full range of dozers and excavators, using the same basic modular components. Modern, redesigned user and product interfaces were developed based on real-world applications and customer feedback and provide a simplified and immersive user experience that allows operators to learn the system easily.
Project managers can get a realtime view of machine positions, activities, and onsite progress, and it is compatible with a wide range of site communications systems. MC-Max offers flexible mounting solutions, as well as optional automatic blade and bucket control for a variety of machines. The system also provides a full battery of positioning technologies ranging from slope control to laser, multi-constellation GNSS, robotic total station and Millimeter GPS systems.
Now, Topcon has introduced the MC-Mobile portable machine control solution for compact equipment. Also based on the Topcon MC-X machine control platform, MC-Mobile offers the user experience and competitive performance benefits of full-size machine control guidance solutions for compact excavators, skid steers, and compact track loaders.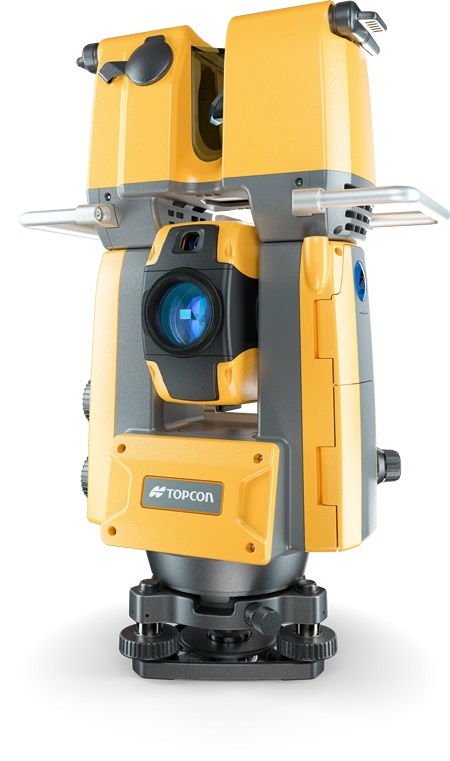 MC-Mobile provides users with design, build, and check functionalities and a feature-rich Topcon software. Operators can utilize modular components for a wide range of applications, including grade checking, creating designs on the fly, and self-performing site layouts without traditional staking.
Displays and other components are designed to be easily shared across numerous machines in owned or rental fleet environments. These pieces can also be moved from grade checking/layout rover pole to machine and back. Like the MC-Max on which it is built, it can work with robotic total station and Millimeter GPS systems.
And robotic total stations are a natural for Topcon because they are a major supplier of such technology. Their latest scanning robotic total station—the GTL-1200—combines the power of a robotic total station with a best-in-class laser scanner, enabling users to perform digital layout and capture high-resolution 3D scans, all with a single setup.
This combined technology approach eliminates workflow steps for scanning applications and greatly reduces the need for post-processing because the captured scan data is already on survey control or jobsite coordinates. In addition, the GTL-1200 workflow includes seamless integration with ClearEdge3D software for as-built and advanced construction QA workflows.
The GTL-1200 provides several additional features and improvements as compared to its predecessor. The introduction of Collage Site offers field-centric workflows that eliminate extra data management steps traditionally performed in the office. The GTL-1200 also features improved scanning resolution and adds Wi-Fi capability, enabling wireless data transfer to field-controller software.
Want to tweet about this article? Use hashtags #construction #IoT #infrastructure #cloud #3D #GPS #GNSS #machinecontrol