In case you haven't been on this planet for a year or so, fuel prices have gone up. And up. And up some more. As rising fuel and maintenance costs add pressure to already slim margins in today's economy, businesses need robust, data-driven telematics to manage their fleet operations effectively. Even though prices are starting to come down, the market is also responding. Truck and equipment companies are making changes to incorporate advanced technology to meet the demand.
Take Navistar as an example. Navistar committed to a connected and data-driven future with the standardization of a factory-installed telematics device on all new builds of the complete Class 6-8 International Truck and IC Bus vehicle product portfolios, including electric models. This allows all stakeholders access to actionable vehicle data, enhanced capabilities with industry partners, and further improved integration with truck equipment manufacturers.
The International eMV Series battery-electric medium duty truck, in full production since August 2021, provides a flexible design that has offered customers a wide variety of specification options to serve various markets. Although the medium-duty electric truck segment has focused on box trucks, pick-ups, and delivery applications, body upfitters are taking on the challenge of seeing what can work on an electric vehicle.
The International eMV Series has become a successful demonstration of chassis integration serving various markets. Terex Utilities, a manufacturer of materials processing machinery and aerial work platforms, introduced the industry's first all-electric bucket truck mounted on an eMV Series chassis. The vehicle boasts a 135-mile driving range and enough battery power to run the bucket for a full day's work.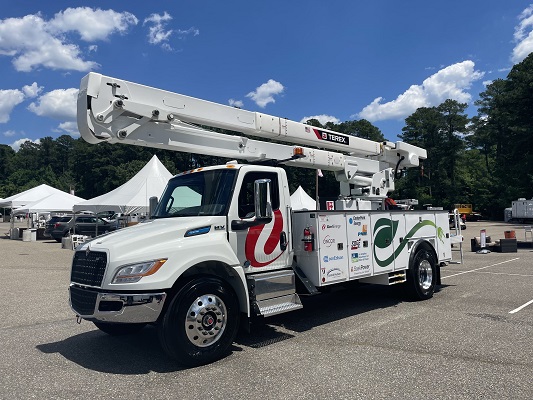 With the addition of advanced telematics and communications, fleet operators won't be in the dark as they get used to their new vehicles. The factory-installed and warranted telematics device broadcasts data to OnCommand Connection, Navistar's connected services platform, which aggregates vehicle health and performance data and turns that into actionable information. OnCommand Connection has more than 30 telematics partner integrations that allow for the platform's unique open architecture to integrate with all makes and models of vehicles on the market.
One of the partners Navistar has is Motive. Their strategic partnership will offer two types of integrations. First, Motive users will be able to streamline their fleet operations by accessing important data about their fleet, including easy-to-read fault code descriptions, severity ratings, and recommended parts and services from Navistar's OnCommand Connection platform. This will allow users, such as safety, compliance, and fleet managers, to quickly diagnose and address potentially costly, maintenance-related issues that typically derail timelines and drive-up costs.
Motive customers can expect improved fleet management by accessing data from Navistar's factory-installed devices on International Trucks. These devices offer rich native telematics, such as vehicle location, engine hours, tire pressure, brake and cabin temperatures, and the status of lights directly from the vehicle manufacturer.
Telematics is but one technology that can aid businesses facing inflationary pressures. Automation, to improve safety and productivity while reducing costs, is another possible approach. The impact that AI (artificial intelligence)-powered automation can have on physical operations is impressive. In in a recent independent study, the Motive AI Dashcam, for example, accurately detected 89% of unsafe driving behavior, helping businesses reduce accidents by up to 22%. Motive is scaling its machine learning and computer vision engineering teams to help businesses automate an expanding set of operational workflows.
Even something as traditional as managing the sending of fleet drivers and maintenance crews can be improved. The Motive Card is the first corporate card natively integrated with a fleet management platform, giving businesses an all-in-one solution to automate their financial and physical operations.
Want to tweet about this article? Use hashtags #construction #sustainability #infrastructure #IoT #AI #cloud #edge #futureofwork