With the trend to all electric homes and commercial buildings, suppliers are rapidly moving their product lines to provide the required controls and apps. A leader in this is Schneider Electric, a specialist in the digital transformation of energy management and automation. The company has been fleshing out its connected devices and controls under the Connected Room Solution and other lines.
Occupant comfort in any space is best optimized when the temperature, lighting, occupancy, and humidity are accounted for in the room. Knowing the number of occupants in a room enables proactive conditioning for the space. It is no longer a requirement to wait for temperature or CO2 thresholds to be exceeded before adjusting the conditions.
The Connected Room Solution, for example, incorporates SpaceLogic RP-V and Insight Sensor to maximize space efficiency through realtime space usage, saving organizations 10% to 20% on HVAC (heating, ventilation, and air conditioning) energy costs and producing comfortable environments for occupants. It uses a specialized sensor, designed to work with room level devices like light and blind control. The smart SP90 actuator for intelligent hydronic control and the Insight Sensor work in tandem to level set the temperature, air quality, and atmosphere of a room. Insight Sensor itself is a 6-in-1 sensor that monitors people counting, motion, temperature, humidity, sound levels, and light levels.
With about 90% of people worldwide anticipated to spend most of their time within indoor environments, it's more imperative than ever before that building owners ensure the health, comfort, and safety of their occupants. Companies can use the Connected Room Solution integrated with SpaceLogic RP-V and Insight Sensor as a means of monitoring for acute room level changes, automating room HVAC operations and more, which helps maintain a healthy room environment and cut energy costs.
To maintain the "smart" aspects of a building requires an intelligent app that can control multiple devices, usually remotely. In 2023, the company introduced Schneider Home, a complete energy management solution, including a home battery for clean energy storage, a high-power solar inverter, a smart electrical panel, an electric vehicle charger, and connected electric sockets and light switches—all controlled by the easy-to-use Schneider Home app.
Schneider's modular, flexible solution adds smart panel functionality to standard home electrical systems. This solution, including new Square D Control Relays and the Schneider Energy Monitor, offer homeowners nationwide app-based control with easier installation and at a lower cost than current smart panel options.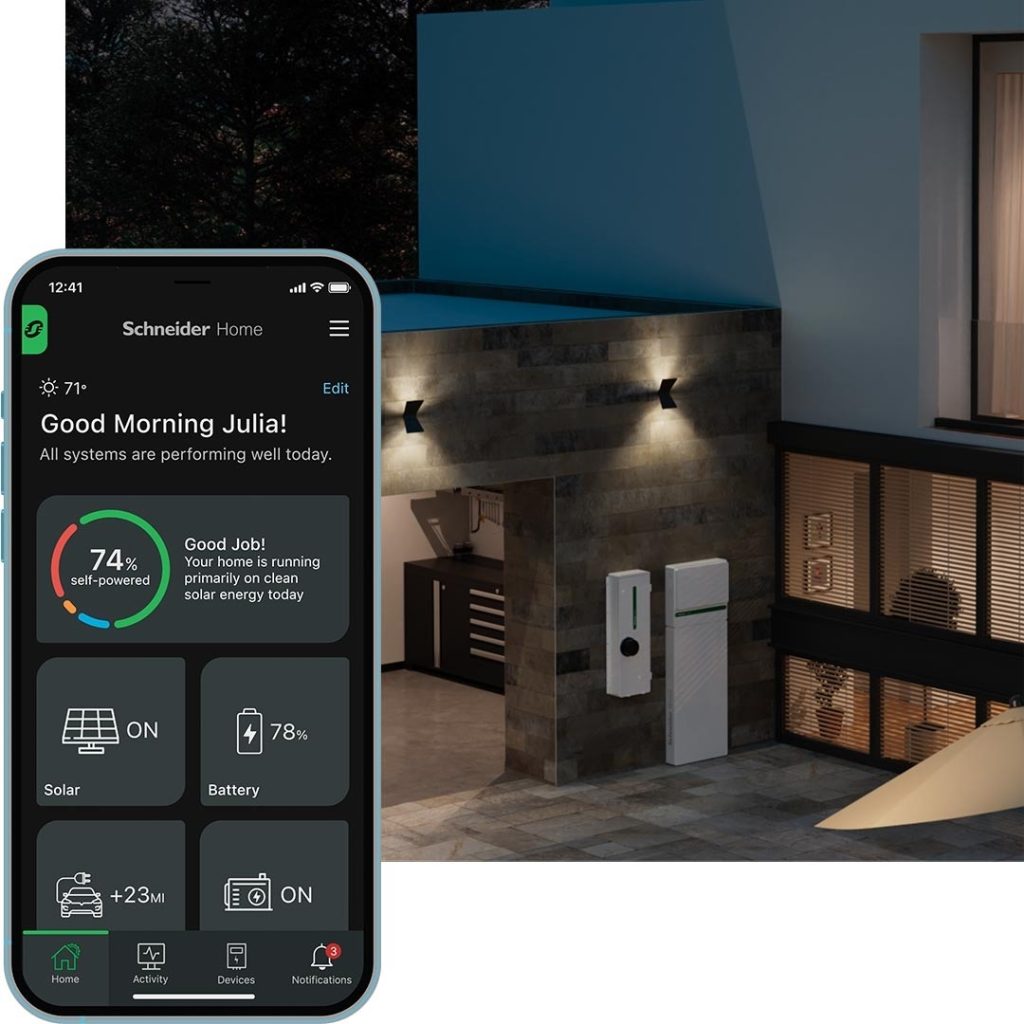 Installing this solution will provide millions of homeowners with smart panel benefits, including circuit-level-control to save energy and enhance safety, and system-wide energy monitoring. Whether updating their existing Square D QO Plug-on Neutral electrical panel or installing a new panel, this will allow homeowners to inexpensively add smart functionality only where it's needed to better manage their energy use and reduce their utility bills. Unlike some smart panels, this allows homeowners to control only the loads they need to control with the app, making this a cost-effective solution for app-based monitoring and control of home energy usage.
In 2021, the Square D Energy Center was launched for new homes in California, seamlessly enabling the convergence of residential distributed energy resources, including utility power, solar power, energy storage, and generators. The launch of the Square D Control Relays and Schneider Energy Monitor follows those innovations, offering homeowners across the nation an affordable and easy way to control energy usage and live more sustainably.
The Square D Control Relays are designed to snap directly onto the Square D QO Plug-on Neutral breakers, while the Schneider Energy Monitor can be added directly into the panel at the same time. Commissioning for both devices can be done quickly through the app, allowing the homeowner to now monitor and control their energy use conveniently from their mobile device.
Want to tweet about this article? Use hashtags #construction #sustainability #infrastructure #IoT #cloud #edge