Estimating is a risky business, especially with the supply-chain issues that are common today. But before the estimator gets to the costs and availability part of the equation, the type, quality, and quantity have to be determined. From CAD (computer-aided design) drawings to BIM (building information modeling) models, the data is there, getting it out and into a usable form is the challenge.
One of the more time consuming and high-risk tasks for an estimator is the takeoff process. Technology has been used at various points to ease the operation and limit the error rate but today's estimators have been waiting for the application of even more advanced tech—AI (artificial intelligence)—to come to the rescue. And it is coming.
Beck Technology, a preconstruction data lifecycle company, and Togal.AI, a machine-learning takeoff software, have formed a partnership, the first phase of a future integration planned between Togal.AI and Beck's DESTINI Estimator, an integrated construction estimating software. The partnership will improve the speed and quality of 2D takeoff while simultaneously building a construction estimate.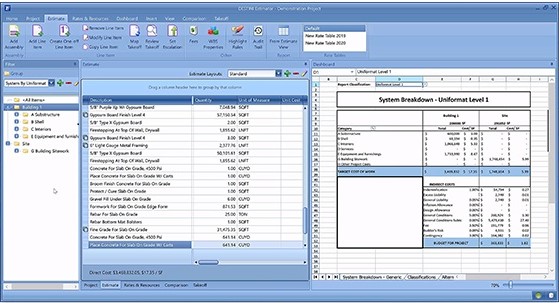 Togal.AI can interpret plans within a minimum of 97% accuracy through their use of AIA measurement standards and machine-learning algorithms. Beck Technology plans to incorporate this efficient workflow into the DESTINI Estimator estimating software so preconstruction professionals can spend less time completing manual takeoff and more time on high-value activities like data analysis and "what-if" calculations.
Instead of estimators measuring the square footage of rooms manually with rollers and rulers, or by dragging a computer mouse over each area to measure and label it on a CAD drawing, Togal uses proprietary AI algorithms to automatically and accurately detect, label, and measure project spaces, walls, and objects within seconds.
The importance of AI in takeoffs is being recognized by non-construction firms, too. Workorder, a construction-technology startup, has raised a $1.1 million pre-seed round to assist in the launch of its construction estimating product. Workorder uses image recognition, deep learning, and optical character recognition, among other technologies, to automatically detect, measure, and count objects in construction blueprints to improve the speed and quality of 2D takeoff while simultaneously building a construction estimate.
Currently, Workorder supports interior finishes: paint, drywall, metal framing, and acoustical ceilings. As the company expands, additional construction areas will be added.
Want to tweet about this article? Use hashtags #construction #sustainability #infrastructure #IoT #AI #futureofwork