How much technology needs to be included in a new house to make it a smart home? Is automation akin to robotics? Can you make a house a smart-home retroactively? Are smart homes necessary in this age?
American contractors—whether residential, commercial, infrastructure or a combination—have been on an economic rollercoaster ride since 2020 when the COVID-19 pandemic hit. Declared an essential function, construction continued, usually in a confined way, with massive safety protocols in place. Even so, employment fell as workers became sick or decided to forego work for health reasons. Remote work for office staff was familiar but you cannot build a bridge from home. Heavy equipment sat idle, supply chains came apart at the links, materials were scarce where workers were not available to produce them. The economy dipped, construction faltered, people were dying in droves, and no one knew for sure how or when things would improve.
Then vaccines came along, treatments improved, masks and mandates were working, and slowly, a resemblance of normal came back. But the debris of two-plus years of COVID remain: materials are still hard to come by and cost much more in every case. Orders for new construction are slowly returning to pre-pandemic levels; Congress has passed some bills that project increases in infrastructure spending with government agencies releasing funds as quickly as possible.
A lot of effort is being made by construction organizations to lobby for the removal of tariffs that impact material availability. The financial impact of the emergency funds released during the pandemic's low points is waning but the "Hiring" signs are growing. Major efforts to up-skill workers, train new employees, and get employment levels back up are in the news.
The NAHB (National Assn. of Home Builders) housing market index in the U.S. extended declines for an eighth straight month to 49 in August of 2022, the lowest reading since May of 2020 and well below market forecasts of 55. According to NAHB Chief Economist Robert Dietz, "Tighter monetary policy from the Federal Reserve and persistently elevated construction costs have brought on a housing recession. The total volume of single-family starts will post a decline in 2022, the first such decrease since 2011. However, as signs grow that the rate of inflation is near peaking, long-term interest rates have stabilized, which will provide some stability for the demand-side of the market in the coming months." The current sales subindex dropped seven points to 57; buyer traffic fell to 32 from 37, and sales expectations in the next six months declined by two points to 49.
According to NAHB, "Builders saw sales decline significantly as buyers were priced out of the market on higher interest rates and ongoing home building and development costs, including building materials. This is just the second time that new home sales have fallen below a 600,000 annual pace since October 2018."
Rising interest rates and ongoing building material supply chain disruptions that raise construction costs continue to act as significant headwinds on the housing market. Sales of newly built, single-family homes in July fell 12.6% to a 511,000 seasonally adjusted annual rate from a downwardly revised reading in June, according to data by the U.S. Dept. of Housing and Urban Development and the U.S. Census Bureau. New home sales are down 29.6% from a year ago.
As the industry recovers its footing, Inventory is up, prices are up, interest rates are up, but buyers are cooling down. Is this the right time to talk up smart homes? Is adding smart features in a declining market good business? What are the features being demanded compared to those that are being offered?
With material costs up across the board, will adding a thousand or more dollars in technology to your offering so you can advertise the "Smart Home of the Future" a good idea? If so, where do you start?
The COVID-19 pandemic made more people aware of their health and the impact that their environment has on it. Architects returned to their CAD terminals to examine how their floorplans could be modified to affect the health of the occupants. Old ideas, like reorienting the house on the lot to make use of sun angles, came back into play.
Bypassing the trend to automation, buyers are looking at heat pumps for HVAC (heating, ventilation, and air conditioning) and solar for energy. Both are good for the environment and the pocketbook and heat pumps can be controlled by the same "old tech" thermostat people have been using for a hundred years.
But the one feature that buyers are demanding is easy connection. The "smart home" is really the connected home. It may not be as sexy as robotic automation and artificial intelligence, voice command and sensors everywhere, but whole house connectivity is the foundation for any future automation. Built with wiring, coax, or fiber, in place and Wi-Fi hubs and boosters embedded, the connected home is what a smart home is built on.
Wi-Fi in the home has evolved from an amenity to an expected utility. An enabling platform for a growing number of smart-home products and systems, Wi-Fi brings connectivity that is an essential part of life at home. Wi-Fi CERTIFIED Home Design is a certification program from Wi-Fi Alliance that enables builders, service providers, and network designers to offer built-in Wi-Fi networks with comprehensive coverage throughout single-family and multi-dwelling complexes, all while minimizing interference from other nearby Wi-Fi networks.
Residents moving into a home trust that the electricity and lighting work once service is established. Wi-Fi Home Design brings this same assurance of quality to Wi-Fi home networks. Wi-Fi Home Design plans integrate professionally designed Wi-Fi networks directly into residential building floor plans and network designs. Each floor plan is specially created to provide whole home coverage based on the residence size, number of levels, neighboring networks, and wall composition.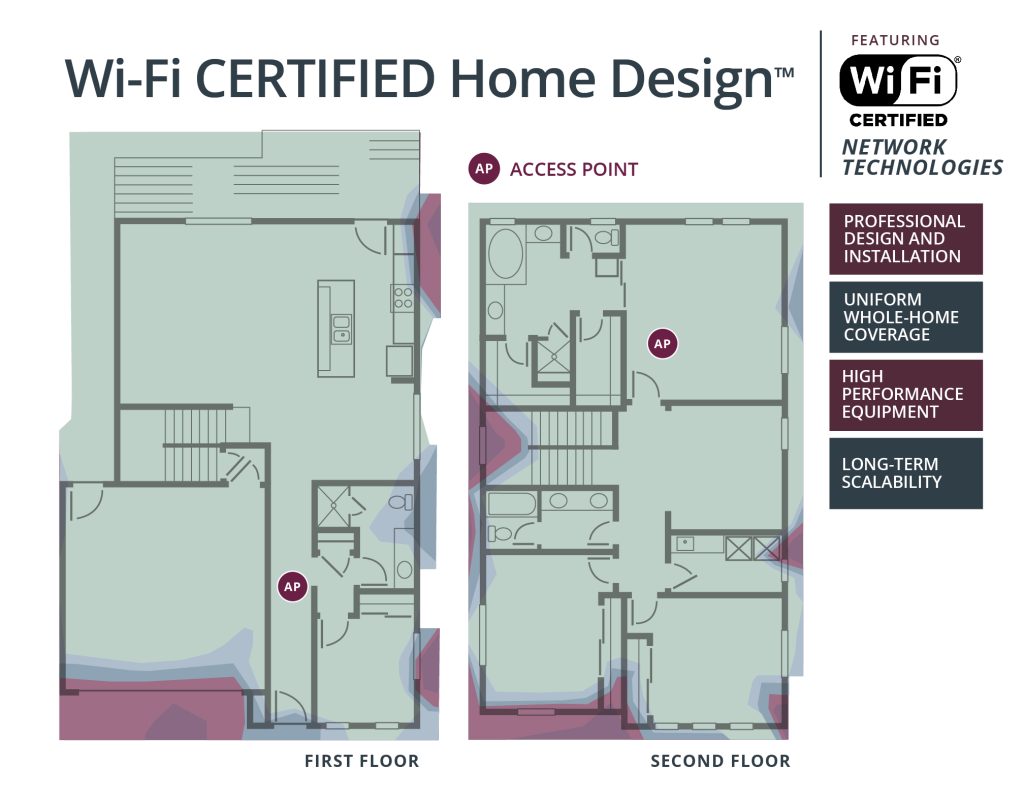 After connectivity, energy management takes the top honors when potential buyers are asked about smart living. Lighting control, temperature control, and security options are close behind. The CABA (Continental Automated Buildings Assn.) concluded that cost and security remain the largest obstacles to customer demand for even more advanced technology.
Where AI devices and services do exist in connected homes today, they tend to be organized around a select few ecosystems (comfort, security) and are driven by a few high-profile devices (Echo/Alexa). Other ecosystems, especially mission-critical ones, remain underserved. But the current conditions are also ripe for disruption as ecosystem participants act to establish themselves as key influencers.
Overall, the proliferation of smart systems in connected homes, coupled with a new demographics of homeowners—who expect a technology-driven experience and the rapid evolution of AI (artificial intelligence) technology—are converging to present a significant new opportunity for connected-home artificial intelligence, CABA concludes. For it to further evolve, emerging and established participants should prioritize open ecosystems, where connected home services can leverage multiple devices and disparate data types to provide greater value to homeowners and tenants
Indeed, the evolution of the connected ecosystem is based on standards. Interoperability of the many units that comprise the smart home is a must for the resident to gain the benefits available. Strategy Analytics puts it simply: Anyone looking for signs that portions of the smart-home market are beginning to mature needs to look no further than the smart home "natural selection" that has taken place over the last three years. Providers unable to align their offerings to how the smart-home market's dynamics have changed are being weeded out.
For the nearly 50 providers that remain, their platforms look more similar than ever, with few new technology differentiators introduced and fewer changes to business models. This is not meant to infer that innovation in the smart-home platform market is dying. Global providers Alarm.com, Amazon, Google, and Samsung continue to roll out new features enabled by artificial intelligence. However, the pace of innovation is slowing down, and when the Matter smart-home protocol makes its debut later in 2022, Strategy Analytics believes the smart-home platform market will enter an extended period of limbo.
Matter is a universal networking protocol that lets devices work across all major smart-home platforms. If you buy a smart bulb, for example, you should not have to check if it is compatible with Amazon Alexa, Google Assistant, or Apple HomeKit — if it supports Matter, you know it will work.
Matter devices can form a mesh network that can connect to the cloud, but that is optional rather than mandatory. Matter is an IP-based technology, so you can control operations remotely via the Internet, but basic smart-home functions, like turning lights on and off, should work regardless of whether accessories can reach the Internet or if you have a dedicated hub or bridge. If you are at home, you should be able to control and update Matter accessories with your phone.
Obviously, not all home systems will be instantly Matter compatible. The drive to present the buyer with a smart home now, and one that will remain smart as newer technologies appear, is gaining momentum. The technologies most buyers want are there, not all compatible with each +other, but close enough. As vendors release new products, they are making interoperability a selling point.
Strategy Analytics estimates the top five video doorbell brands, for example, combined to sell more than 3.5 million doorbell cameras. At 1.4 million units, Amazon's Ring sold as many video doorbells by itself in 2021 as the rest of the top five combined. Connecting with Ring, then, makes marketing sense.
Orro, creators of the professional-grade Orro Smart Living System, has updated the Orro One Pro to connect with all existing Ring video doorbell devices. As a unified system in the form factor of a standard-sized light switch, Orro's product change how homeowners interact with lighting and other smart-home devices and systems. By connecting its voice-enabled and touchscreen-enabled Orro One Pro with a Ring Video Doorbell, customers do not need to have their phone nearby or be near the doorbell chime to receive notifications that someone is at the front door.
By using the company's built-in sensors to detect motion, sound, and ambient light, Orro One Pro and Orro S switches respond with the right amount of light, while learning and adapting to homeowners' habits and preferences. The results include healthier, human-centric lighting that supports natural circadian rhythms, while reducing lighting usage by up to 80%. Meanwhile, popular smart-home products integrate with the company's Orro One Pro for room-by-room touchscreen, voice, and smartphone-based controls and monitoring.
Other companies in the smart-home market will follow suit, connecting to the market leaders, finding ways to enhance their products to take advantage of the changes in market perception of what makes a smart home. While waiting for the next wave of smart-home technology is a waste of time, attempting to future-proof your new home construction is smart. Make the wrong choice of bandwagons to jump on, however, and your smart home can be dumb in a few years.
Predictions are tricky. Market trends are fallible. The only current truth is found by listening to your buyer: This is what I want, is it available, when can I get it? And most important: Make it work the first time!
Want to tweet about this article? Use hashtags #construction #sustainability #IoT #AI #5G #cloud #edge #futureofwork