Sunny skies and warm temperatures are coming. Puffy clouds will dot the sky and children will lay on the grass, looking for animal shapes in the clouds. Meanwhile, enterprise IT (information technology) specialists will be actively combing clouds for applications and benefits—just not puffy clouds.
Enterprise IT spending on public cloud computing, within addressable market segments, will overtake spending on traditional IT in 2025, according to Gartner. Gartner's 'cloud shift' research includes only those enterprise IT categories that can transition to cloud, within the application software, infrastructure software, business process services, and system infrastructure markets.
By 2025, 51% of IT spending in these four categories will have shifted from traditional solutions to the public cloud, compared to 41% in 2022. Almost two-thirds (65.9%) of spending on application software will be directed toward cloud technologies in 2025, up from 57.7% in 2022.
However, cloud migration initiatives for enterprise applications are often thwarted by application size, high levels of customization, and insufficient skills. Before migrating applications, leaders need to break down the barriers by modernizing infrastructure and applications into cloudlike configurations. Towards this end, the emergence of hyperscale public cloud infrastructure has created new or improved methods for increasing the repeatability of infrastructure provisioning as IaaS—infrastructure as a service.
One problem is a transition from old methods to newer ones that are compatible with cloud computing. Take for example the "traditional" migration methodology commonly called "lift and shift," or "rehosting."
As IBM notes, lift and shift is the process of migrating an exact copy of an application or workload (and its data store and OS (operating system) from IT one environment to another—usually from on-premises to public or private cloud. Because it involves no change to application architecture and little or no change to application code, the lift and shift strategy enables a faster, less labor-intensive and (initially) less-costly migration compared to other processes.
Another benefit is that It is also the fastest and least-expensive way for an organization to begin shifting IT dollars from capital expense to operational expense in order to initiate the hybrid cloud strategy and begin leveraging the more economical and extensible computing power, storage, and networking infrastructure of the cloud.
In the earlier days of cloud computing, lift and shift migration was worth considering for all but the oldest, most complex, and most tightly coupled on-premises applications. But as cloud architectures have evolved—and enabled improved developer productivity and ever more favorable cloud pricing models—the long-term value of migrating an application 'as-is' that cannot leverage the cloud environment has diminished dramatically.
Today, lift and shift is considered primarily as an option for migrating workloads that are cloud-ready to some degree or as a first step in the process of rearchitecting a monolithic application for the cloud, on the cloud.
But Gartner feels that to truly deliver digital capabilities anywhere and everywhere, enterprises must turn away from the "lift and shift" migrations and toward a CNP (cloud native platform). CNPs use the core capabilities of cloud computing to provide scalable and elastic IT-related capabilities "as a service" to technology creators using internet technologies, delivering faster time to value and reduced costs. For this reason, Gartner predicts that cloud-native platforms will serve as the foundation for more than 95% of new digital initiatives by 2025—up from less than 40% in 2021.
Why the rapid shift to cloud computing? One word: COVID-19. "The shift to the cloud has only accelerated over the past two years due to COVID-19, as organizations responded to a new business and social dynamic," explained Michael Warrilow, research vice president, Gartner. "Technology and service providers that fail to adapt to the pace of cloud shift face increasing risk of becoming obsolete or, at best, being relegated to low-growth markets."
In 2022, traditional offerings will still constitute 58.7% of the addressable revenue, but growth in traditional markets will be much lower than cloud. Demand for integration capabilities, agile work processes, and composable architecture will drive continued movement to the cloud, as long-term digital transformation and modernization initiatives are brought forward.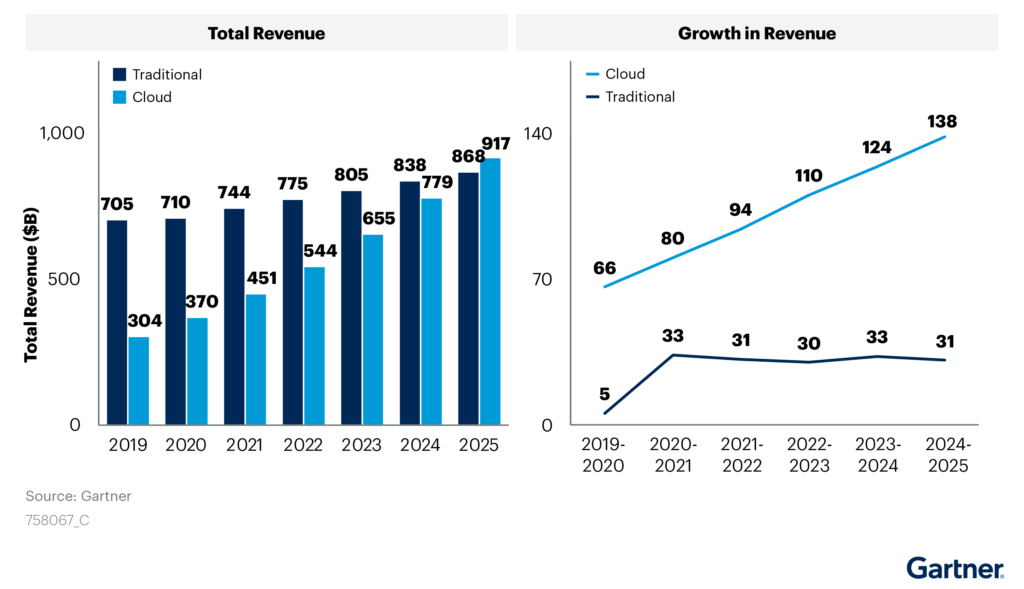 In 2022, more than $1.3 trillion in enterprise IT spending is at stake from the shift to cloud, growing to almost $1.8 trillion in 2025, according to Gartner. Ongoing disruption to IT markets by cloud computing will be amplified by the introduction of new technologies, including distributed cloud.
According to IBM, distributed cloud is a public cloud computing service that lets you run public cloud infrastructure in multiple different locations – not only on your cloud provider's infrastructure but on premises, in other cloud providers' data centers, or in third-party data centers or co-location centers – and manage everything from a single control point.
With this targeted, centrally managed distribution of public cloud services, your business can deploy and run applications or individual application components in a mix of cloud locations and environments that best meets your requirements for performance, regulatory compliance, and more. Distributed cloud resolves the operational and management inconsistencies that can occur in hybrid cloud or multicloud environments.
Maybe most importantly, distributed cloud provides the ideal foundation for edge computing, that is, running servers and applications closer to where data is created. The demand for distributed cloud and edge computing is driven primarily by Internet of Things, artificial intelligence, telecommunications and other applications that need to process huge amounts of data in real time.
But distributed cloud is also helping companies surmount the challenges of complying with country, or industry-specific data privacy regulations or, more recently, providing IT services to employees and end-users redistributed by the COVID-19 pandemic.
Gartner predicts enterprise adoption of distributed cloud has the potential to further accelerate cloud use because it brings public cloud services into domains that have primarily been non-cloud, expanding the addressable market. Organizations are evaluating it because of its ability to meet location-specific requirements, such as data sovereignty, low-latency, and network bandwidth.
Want to tweet about this article? Use hashtags #construction #IoT #sustainability #AI #cloud #edge #futureofwork #infrastructure