A robot is a machine, plain and simple. Unlike a machine tool, a CNC (computerized numerical control) machine for example, that sits on a foundation and works at its job, robots have motion functions, movement of extensions such as arms or tracks that allow it to go to the work, not just wait for the work to come to it.
Range of motion might be very limited—think of the insertion robot that places chips on a motherboard—or wide. In that latter category are the animated robots that can literally run throughout the warehouse or jobsite, performing duties that require strength greater than a human's or lifting higher than a human can, such as stocking the highest shelves of a storage facility.
One defining characteristic of robots is that they are programmable, especially by a computer, and capable of carrying out a complex series of actions automatically. A robot can be guided by an external control device, or the control may be embedded within. Robots may be constructed to look human, but most robots are task-performing machines, designed with an emphasis on stark functionality, rather than expressive aesthetics.
They are not humanoid robots, not cute little puppy robots, either. While they can have a lifelike appearance or automating movements, allowing it to convey a sense of intelligence or thought of its own, they are not sentient.
Industrial robots have been around since 1954 when Unimation announced its single arm assembly robot, installed by GM in 1961 where it lifted pieces of hot metal from die casting machines at the Inland Fisher Guide Plant. In the 21st century, autonomous machines, including self-driving vehicles, are starting to interact with people outside of the confines of industrial venues. Even construction sites are seeing them and more will be coming in the near future.
Construction robotics
Trimble has joined in a strategic collaboration to explore the use of autonomous construction surveying technology with Exyn Technologies, a spin out of The University of Pennsylvania's GRASP (General Robotics, Automation, Sensing & Perception) Lab and a pioneer in multi-platform robotic autonomy for complex, GPS-denied environments. The initial unit will integrate Boston Dynamics' Spot robot, the ExynPak powered by ExynAI, and the Trimble X7 total station in a fully autonomous robotic system. Its mission inside complex and dynamic construction environments can result in consistent and precise reality capture for production and quality control workflows.
Autonomous robots powered by ExynAI, can sense and avoid obstacles, dynamically adapting to the ever-changing complexity of construction environments. To ensure the utmost safety and efficiency, the ExynPak mounts and integrates with a robot, supporting level 4 of autonomous exploration missions without requiring the robot to "learn" about its environment beforehand. A surveyor simply defines a 3D volume for a mission and the integrated robotic solution handles the complexities of self-navigation without needing a map, GPS, or wireless infrastructure.
The integration of the Trimble X7 provides high-speed, high-accuracy 3D laser scanning to capture the state of the environment. The captured data can be uploaded to the Trimble Connect collaboration platform and shared with project stakeholders for further analysis, including a comparison to BIM (building information modeling) and previous scans to monitor quality and progress. The result is a map of unprecedented detail and accuracy collected with minimal human intervention and risk.
Robotic Layout
The construction industry faces a variety of challenges including the shortage of skilled workers and productivity. Trimble and technology pioneer HP are another partnership that can address these challenges. With a combination of HP SitePrint and the recently introduced Trimble Ri total station, the integrated solution can deliver an autonomous layout workflow that leads to efficiency and productivity on the job, while delivering layouts faster than traditional methods.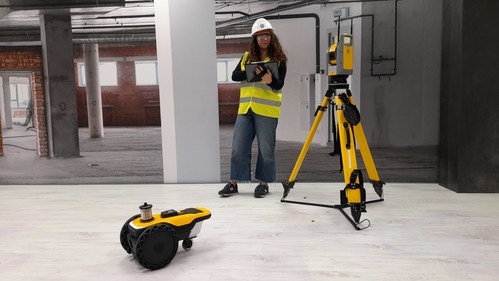 Augmenting the contractors' work, SitePrint can avoid obstacles and print lines and complex objects with pinpoint accuracy and consistent repeatability. In addition, text printing capabilities bring additional data from the digital model to the construction site to prevent errors. Using optical technology, the precise positioning and navigation of HP SitePrint robot is driven by the Trimble Ri total station.
Equipped with automatic level detection, self-calibration, and Trimble VISIO
N technology for advanced tracking, the Trimble Ri enables the HP SitePrint robot to achieve autonomous, high-accuracy indoor layout work. The system can transform the layout process on complex construction sites in a fraction of the time under manual operations.
HP is not limiting customers to the Trimble version, however. HP and Topcon are collaborating to integrate HP SitePrint with the Topcon Layout Navigator and GT Robotic Total Stations and HP and Leica Geosystems, have already integrated SitePrint with the Leica TS16 and Leica iCON iCR80 Robotic Total Stations.
Want to tweet about this article? Use hashtags #construction #sustainability #infrastructure #IoT #AI #cloud #edge #futureofwork #robots