The image of a large truck going down the highway with no one in the cab was once a science fiction staple—usually in a horror movie. Today, it is becoming more of a reality, although there is often a human in the cab, just in case. But in the rough world of quarrying, where few vehicles are working at any time, the idea of autonomous trucks is taking hold.
BTA (Bell Trucks of America), Houston is known for providing North America best-in-class articulated dump trucks and tracked carrier products, service and support via a network of national dealers. The company is the master distributor of Bell Equipment's world class haulage products for the USA and Mexico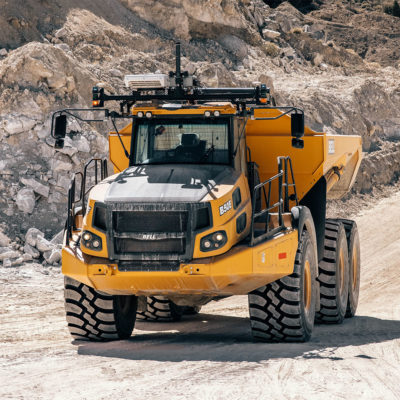 Bell Trucks America recently signed an exclusive deal with Pronto AI as their provider of autonomous technology for ADT (articulated dump trucks) in the USA. This comes after months of dedicated work on the project to deliver autonomous drive technology to the Bell ADTs. With the partnership, Bell trucks will be the first commercially available off-road trucks to be powered by AI (artificial intelligence) autonomy.
As part of the partnership, Pronto will make available its advanced autonomous driving and driver safety technologies to all Bell customers in the U.S. and Mexico, on both new Bell truck purchases and existing fleets via BTA's network of more than 75 dealerships and service centers.
The Pronto system uses cameras mounted on the truck to observe the road and job site environment. It then feeds that data into neural networks that analyze every image in conjunction with other inputs to make optimal driving decisions. The cameras have excellent resolution and range and are used with intelligent software to translate to machine learning and sensor processing hardware to offer all the options for self-driving ADTs.
With the Pronto partnership, Bell trucks will be the first commercially available off-road trucks featuring AI-powered "Level 4" autonomy. While SAE (Society of Automotive Engineers) Levels 1, 2, and 3 of the autonomy scale are common today, Level 4 is still in limited testing. For example, Level 1 is the traditional manually operated vehicle, Level 2 is found in systems such as Tesla Autopilot, where the vehicle can control steering and acceleration/deceleration but there is a human in the vehicle in case of failure of the systems.
Level 3, called conditional driving automation, is when the vehicles have "environmental detection" capabilities and can make informed decisions for themselves, such as accelerating past a slow-moving vehicle, but may still require human override—the driver must remain alert and ready to take control if the system is unable to execute the task.
The difference between Level 3 and Level 4 automation can be considered the entry point to full autonomy. Level 4 vehicles can intervene if things go wrong or there is a system failure. These cars do not require human interaction except in emergency. However, a human can manually override the automation if necessary.
Level 4 vehicles can technically operate in self-driving mode but in many environments, they cannot do so legally. Until legislation and infrastructure evolve, they can only be operated within a limited area. An example of this in an urban area, as opposed to an off-road environment, is Alphabet's Waymo Level 4 self-driving taxi service in Arizona, where they had been testing driverless cars―without a safety driver in the seat―since 2018 and for over 10 million miles.
Waymo's autonomous trucking and local delivery unit, Waymo Via, is testing its autonomous driving technology in Class-8 semi-trucks on highways in California, Arizona, and Texas. The company believes autonomous driving technology will make trucking safer, stronger, and more efficient while filling a critical demand for drivers.
Through ambitious timelines for the deployment of high levels of automated driving, vehicle manufacturers are driving the rapid deployment of autonomous vehicles and the growth of sensor types that underpin the technology. As long ago as 2018, ABI Research, a market advisory firm, forecast eight million vehicles shipping in 2025 to feature SAE Level 3 and 4 technologies and even SAE Level 5 technology, where no driver will be required at all. Companies such as Bell rucks and Pronto AI will help meet that challenging goal.
Want to tweet about this article? Use hashtags #construction #IoT #sustainability #AI #cloud #futureofwork #infrastructure