Most contractors, when asked about drilling equipment, will think in terms of hand drills for wood or concrete. But in infrastructure, mining, and oil and gas exploration, drills come much bigger. Now one of the biggest is making (less) noise in the field.
Vermeer unveiled the newest generation of maxi rig drills with the introduction of the D550 HDD (horizontal directional drill). The D550 gets its name from its 550,000-pound (249,475.8-kg) operational thrust/pullback ability. This large drill leads its class with 100,000 foot-pounds (135,581 Nm) of torque, advanced telematics along with smart onboard technology and diagnostic information.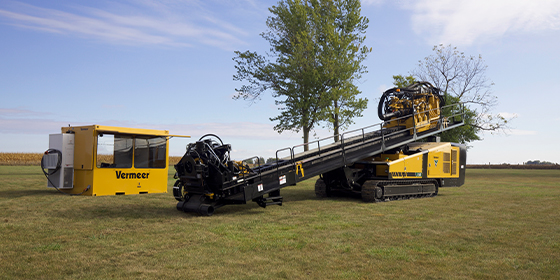 The Vermeer D550 crawler-mounted drill will help crews work efficiently installing large-diameter products, including oil and gas pipelines, water lines, and high-voltage electrical transmission lines at long distances. The maxi rig drill delivers more compared to older Vermeer models, including a steady, ultra-slow speed control for working in challenging hard rock, as well as rotation speed for boring in clay conditions.
Operationally, the D550 controls have three different auto drilling modes — rotation, thrust, and speed. Its ultra-slow speed technology delivers precise thrust control to allow drill operators to regulate weight-on-bit pressure for optimal cutting action and maximum tooling life.
In addition to new technology, the D550 also features many mechanical enhancements including a full travel vise, engineered hydraulic transmission, and quiet engine. The maxi rig's full travel vise can be positioned up and down the rack as needed for making/breaking tooling and optimizing efficiency during casing installation.
The hydraulic circuit on the D550 delivers the peak amount of torque at high rotational speeds while system pressures remain low to help maximize component life. Also, the drill runs quiet, which helps keep jobsite sound levels down and reduces the need for sound barriers when working in urban areas.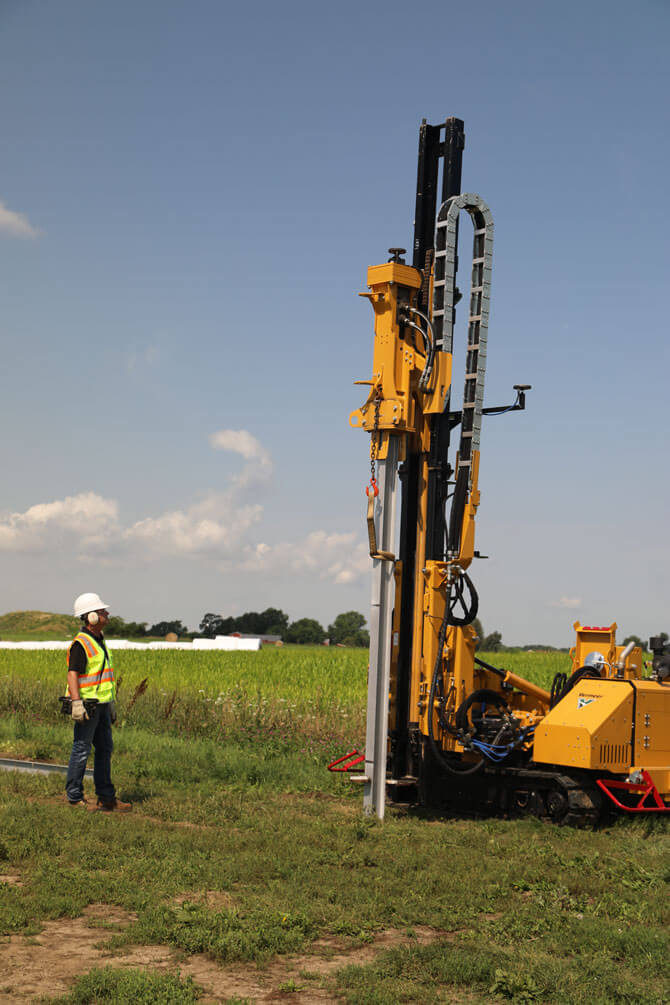 With the growing movement to solar farms in the utility field, hundreds of piles need to be driven before racking is assembled and solar panels can be placed, and exact pile positioning is crucial. Vermeer PD10R pile drivers are equipped with a new PTP (point-to-point) system that can reposition them automatically using onboard GPS (global positioning system), further enhancing existing PD10R auto-plumb and auto-target features.  
After driving a pile, the operator presses a button and the remote-control-operated PD10R travels and aligns itself to drive the next pile. This automation technology helps ease the pile-driving process by reducing the number of operational steps involved with moving these machines on solar farm construction projects.
The point-to-point system works by syncing GPS coordinates with a digital project map of identified pile sites. After a pile is installed, the automation technology recognizes the next waypoint (pile location) on the map, then moves and positions itself into alignment. In addition, PD10R PTP models are equipped with bump bars on each end that disengage machine movement when they encounter an obstacle.
Want to tweet about this article? Use hashtags #construction #infrastructure #futureofwork