The Bentley Systems iTwin platform keeps growing. One reason companies find the iTwin platform a good way to increase their penetration into the construction market is that Bentley provides an easy way to integrate software and products into the platform and adds its own additional benefits on a regular basis.
For example, Bentley Infrastructure Cloud is a combination of enterprise systems that span the end-to-end lifecycle and value chain of infrastructure and is powered by the iTwin Platform. Infrastructure Cloud enables creation, delivery, and ongoing operation of infrastructure, through complete and evergreen digital twins.
Infrastructure Cloud includes ProjectWise, for project delivery; SYNCHRO, for construction; and AssetWise, for asset operations. These enterprise systems now leverage digital-twin technologies to open up data contained in engineering files through automated and intrinsic mapping to Bentley's infrastructure schemas. By advancing these enterprise systems to become fundamentally data-centric without disrupting file-based workflows, it provides organizations with significant opportunities to improve collaboration, productivity, and quality.
The potential for a unifying, cloud-based solution across the lifecycle of infrastructure engineering arises from the institutionalized limitations of fragmented information flows that have impeded connections, feedback, analytics, reuse, and knowledge transfer. The Infrastructure Cloud comprises a data-centric, always on, always current, always accessible environment that persists and relates engineering data throughout the span of design, construction, and operations.
Information mobility and semantic continuity across traditional boundaries will help accelerate, among other advancements, modular design and design for constructability, and performance-based design.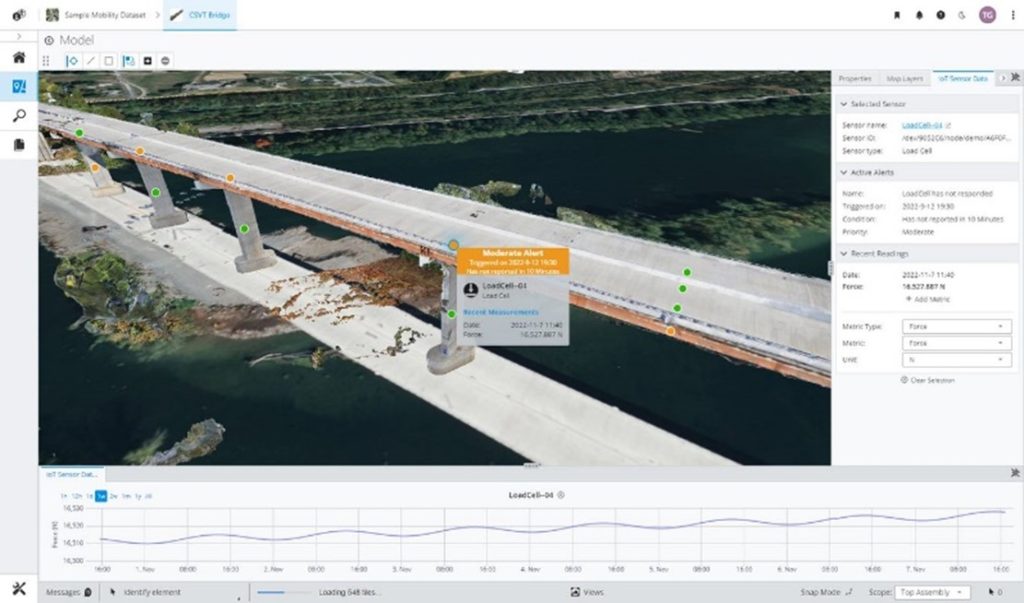 Other providers to the construction marketplace have found this a compelling platform. For instance, the iTwin platform helps project teams leverage engineering and design data to better understand the construction sequence and communicate project plans to all parties involved via the Evercam 4D View. The app combines video footage throughout the jobsite with a digital twin and allows users to switch between the model and reality to track changes and communicate progress. The 4D View democratizes the data allowing project members access to the platform and the ability to switch between realtime footage and the BIM (building information modeling) model, making collaboration simplified among project members.
Users can view changes made to the BIM model and receive updates within the platform. 4D View provides users with a list of features from within the platform including remote measurement, navigational tools, and the ability to highlight anything from the 3D model, as the iTwin Platform recognizes each element.
INESS 360 also added its Data Twins of Commercial Spaces to Bentley Systems' Powered by iTwin program. Data Twins of Commercial Spaces enables owners and operators to better manage the use of commercial spaces by integrating human behavior modeling with a building's operations. By using the Bentley iTwin platform, INESS will integrate the data and data models directly to the building architectural model and create a data twin of the lifecycle of the building.
INESS is a behavioral occupancy analysis system for small-to-medium-sized commercial properties. INESS converts commercial spaces into data streaming sources to model human behavior and how indoor circumstances affect that behavior by integrating the INESS system into the structure of the building.
The system developed predictive models on usage trends and indoor circumstances to optimize space, energy usage, and operations without needing to invest in expensive BMS (building management systems).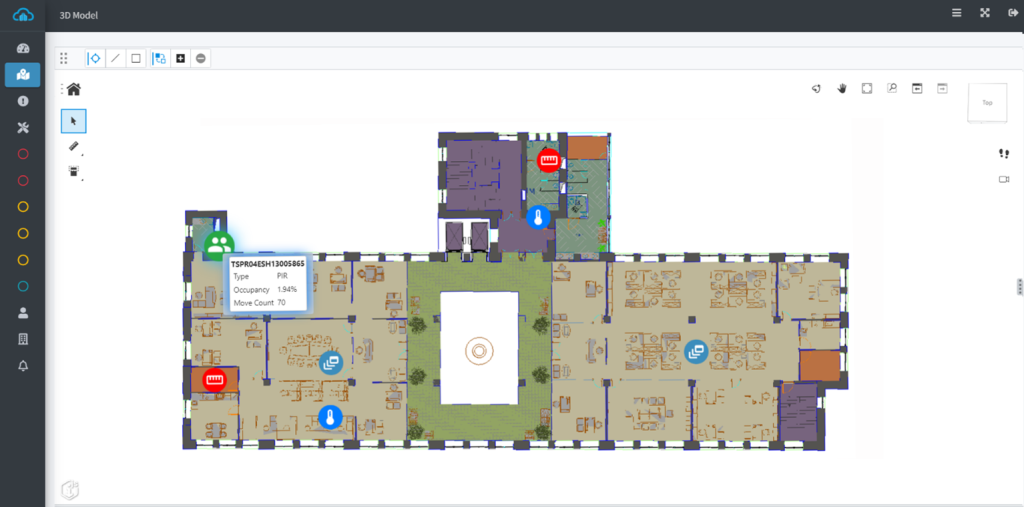 Bentley recognizes the challenges and impacts the construction industry faces when it comes to the environment, and it is seeking ways to help improve it. The major climate change conference of 2022 was the COP27 meeting in Egypt in November and Bentley was there. One result was expanded integrated workflows for embodied carbon calculation in the iTwin platform.
The new integration enables carbon assessment in infrastructure digital twin solutions, empowered by the EC3 (embodied carbon in construction calculator). Developed by the nonprofit organization Building Transparency, EC3 is a no-cost, open-access tool that allows benchmarking, assessment, and reductions in embodied carbon, focused on the upfront supply chain emissions of construction materials.
Building Transparency provides the education, resources, and tools—including EC3 to address embodied carbon's role in climate change. The EC3 tool and its subsequent effect on the industry are driving demand for low-carbon solutions and incentivizing construction material manufacturers and suppliers to invest in disclosure, transparency, and material innovations that reduce the carbon emissions of their products.
The added integration with EC3 not only creates time savings with improved accuracy but also provides uncertainty estimations of the EPD (environmental product declaration) data and increases carbon transparency due to the open-source/open-access strategy. Users can incorporate engineering data created by various design tools into a single view using the Bentley iTwin platform, generate a unified report of materials and quantities, and share it with different carbon analysis tools now also with EC3 via cloud synchronization.
Of course, infrastructure is practically Bentley's middle name so there are always some infrastructure-based products in or close to any announcements the company makes. Most recently, that was Bentley's infrastructure schemas. A collection of cloud-based applications, Bentley is presenting a variety of new approaches.
iTwin Experience is a new cloud product to empower owner-operators' and their constituents' insights into critical infrastructure by visualizing and navigating digital twins. Significantly, iTwin Experience accelerates engineering firms' "digital integrator" initiatives to create and curate asset-specific digital twins, incorporating their proprietary machine learning, analytics, and asset performance algorithms. iTwin Experience acts as a "single pane of glass," overlaying ET (engineering technology), OT (operations technology), and IT (information technology) to enable users to visualize, query, and analyze infrastructure digital twins in their full context, at any level of granularity, at any scale, all geo-coordinated, and fully searchable.
iTwin Capture is used for capturing, analyzing, and sharing reality data, enabling users to easily create engineering-ready, high resolution 3D models of infrastructure assets using drone video and survey imagery from any digital camera, scanner, or mobile mapping device. Infrastructure digital twins of any existing assets can accordingly start with reality modeling, rather than requiring a BIM model.
And in keeping with the movement to more smarts in buildings and cities,
iTwin IoT (Internet of Things) is keeping with the movement of smart in buildings and cites. iTwin IoT acquires and analyzes sensor data, enables users to seamlessly incorporate IoT data created by sensors and condition monitoring devices. Infrastructure IoT can be used effectively for realtime safety and risk monitoring in operations and construction activities, including to measure and visualize environmental changes, structural movement, or deterioration for condition assessment, maintenance scheduling, and to prompt precautionary interventions. By securely incorporating realtime data at scale from among hundreds of sensor types, iTwin IoT increases the value of engineering and geotechnical data.
Want to tweet about this article? Use hashtags #construction #sustainability #infrastructure #IoT #cloud