Collaboration has many synonyms—association, combination, teamwork, alliance, joint effort, among others—but strangely, communications isn't one of them. Strange because the main element of collaboration is indeed communication among individuals both near and far. Especially far, even in these dwindling days of COVID-19's remote work and distancing, as remote work is giving way to hybrid work relationships.
Hybrid work is collaborating as a community, connecting not only colleagues but also those outside the organization. Collaboration tools must have the adaptability to bring productive, secure, and equitable experiences to a blended team or audience. The ratio of types of events (in-person to virtual to hybrid) have become nearly evenly distributed as hosts offer more attendance options to meet the needs of a greater audience.
As the return to in-person and hybrid collaboration events become more popular, event platforms not only support remote attendees, but can be used to enhance in-person participation with closed captioning and realtime translation, social tools, live Q&A, polling, and more. Consider each collaborative activity as a conversation that brings context and builds community. Distributed teams need to use and enable an array of engagement features and leverage them to increase participation.
The pandemic exposed many weaknesses in the way companies are structured and how employees do their work. Lockdowns and remote work caught most firms without a policy to fall back on when it came to workers offsite. In construction, hammers don't hit nails when the carpenter is remote from the worksite, but office workers could tap into the company network from anywhere and neither the computer nor the clients would know where they were operating.
As the requirements imposed by the pandemic for remote work decreased, not everyone saw returning to the office as a positive. Where companies found the work quality and productivity was as acceptable—or even better—remote as in the office, the workers were often given the choice of remote, in office, or a combination (hybrid). In some cases, the company opted for continued remote, such as those in the tech fields and industries that are highly focused on customer care.
In spring 2022, MIT researchers created the Workplace Collaboration Survey to better understand collaborative relationships in the modern workplace. The 1,100 people who participated in the survey were employed full-time in the United States and, to qualify for inclusion, they had to work with others at least some of the time.
Respondents were asked what proportion of their job entails collaborating with others to advance shared goals. Nearly three-quarters (71%) of the sample reported collaborating at least 41% of their work time. This means in a 40-hour, five-day workweek, people spend an average of 3.2 hours per workday collaborating with others.
Given how much time people spend working and being with others at work, it's no surprise that challenges to relationships are generated in the workplace. In fact, 72% of respondents said they have been involved in at least one workplace collaboration that was "absolutely horrendous." Such collaborations create operational drag, bust timelines and budgets, trigger managerial headaches, and occupy already overloaded HR staffs.
Before COVID-19, the largest disruptions to work involved new technologies and growing trade links. Consultancy McKinsey and Co., found COVID-19 has, for the first time, elevated the importance of the physical dimension of work. It develops a way to quantify the proximity required in more than 800 occupations by grouping them into ten work arenas, according to its proximity to coworkers and customers, the number of interpersonal interactions involved, and their on-site and indoor nature.
It found jobs in work areas with higher levels of physical proximity are likely to see greater transformation after the pandemic, triggering knock-on effects in other work arenas as business models shift in response. In the longer term, work areas with higher physical proximity scores are also likely to be more unsettled, although proximity is not the only explanation.
The computer-based office work area includes offices of all sizes. Work in this area requires only moderate physical proximity to others and a moderate number of human interactions. This is the largest area in advanced economies, accounting for roughly one-third of employment. Nearly all potential remote work is within this arena.
The outdoor production and maintenance area includes construction sites, residential and commercial grounds, and other outdoor spaces. COVID-19 had little impact here, as work in this area requires low proximity and few interactions with others and takes place fully outdoors.
Considering only remote work that can be done without a loss of productivity, McKinsey found about 20-25% of the workforces in advanced economies could work from home between three and five days a week. This represents four to five times more remote work than before the pandemic and could prompt a large change in the geography of work, as individuals and companies shift out of large cities into suburbs and small cities.
There has developed an additional issue: shortages of skilled workers. The pipeline of new construction workers, for example, is not flowing as freely as it once did. Training programs have been slow to restart operations after pandemic-driven safety concerns led to their suspension the spring of 2020. The lack of training, or training interrupted, leads to fewer skilled and certified workers in many construction trades.
The industry is also finding it more difficult to attract the international workforce—i.e., immigrants—that has been an important source of talent for engineering, design, contracting, and labor activities. Net migration has been falling since 2016, a trend accelerated by COVID-19 travel restrictions. Between 2016 and 2021, net migration declined steadily from 1.06 million to 244,000.
The labor challenge extends well beyond corporate boundaries. Since the successful delivery of a project could be jeopardized by labor shortages in a single value-chain participant, project owners and contractors may want to adapt the structure of project relationships and contracts. Moving away from traditional contracting methods to collaborative contracts allows participants to share market risks and opportunities as a project evolves, rather than baking in worst-case estimates at the outset of negotiations.
A recent report analyzed data across more than one billion contracts within Ironclad. The analysis comprises a unique proprietary mix of process data around the contracting process, and metadata inside contracts to gain insight into trends across a wide range of areas in business. The analysis found that across Ironclad's diverse customer base, spanning industries, locations, and sizes, companies are embracing new, digital ways to collaborate internally and externally. Teams are increasingly embracing browser-based collaboration for their contracts, demonstrated by a 262% increase year-over-year in usage of Ironclad's browser-based contracts editor, and a 150% quarter-over-quarter increase in browser-based negotiation.
Indeed, two technologies growing in importance in construction—BIM (building information modeling) and cloud computing—are enabling greater collaboration internally and with outside contractors and suppliers. BIM is an intelligent 3D modeling software that architects, engineers, contractors, and suppliers use to collaborate on a construction project. Since collaboration on construction projects often makes the difference between project failure and success, involving every stakeholder in the project from beginning to end ensures transparency, clarity on individual obligations, and streamlined workflows. More importantly, frequent communication and feedback are necessary to clear any issues and drive the project forwards.
While BIM has become common for large projects, the cloud has become common everywhere. One of the advantages of cloud-based collaboration software is that it can integrate with several services that are provided by third parties. Cloud-based collaboration software allows the users to connect effectively, which will help to eliminate application slowness associated while using numerous communication application.
According to Research Nester, due to the increase in the adoption rate of cloud-based solutions among small to medium enterprises, cloud-based collaboration software market is expected to grow during the years up to 2027. Companies are adopting cloud-based collaboration software and other cloud services since they can offer great storage capacity, increase productivity, and provide easy access.
With the help of cloud servers, several networks can be interconnected to deliver data storage services across the globe. Key attraction of cloud-based collaboration software is automation, as it helps to release essential internal resources for other high-priority work. Increase in usage of smartphones and tablets also trigger the growth of cloud-based collaboration.
Security is the major concern, as the data can be easily accessible from anywhere and anytime, therefore many companies do not want to take the risk of using cloud-based collaboration. High speed internet is often required to access large amounts of data from the cloud, which acts as one of the restraints for the collaboration software market.
Major industry players, such as Autodesk, have been busy connecting BIM data to the cloud and then sharing it with all the necessary partners, making a collaboration tool even more beneficial. Autodesk has recently released a connector product, Bridge, that empowers construction teams to share only relevant data with project stakeholders, regardless of whether they are on the same team or building project within Autodesk Construction Cloud.
The operative term in this instance is "relevant." Sharing entire projects with team members can compromise privacy and requires tedious permission setting. Autodesk Construction Cloud's Bridge provides the flexibility to automatically share relevant information with stakeholders, while still maintaining control over project data.
General contractorshave a simple solution to coordinate work between their trades and provide visibility to owners, while ensuring owned project information is documented and saved in a centralized location. Whether they are working on a large project and want to split each component into its own sub-project or want to break out projects for trades to meet privacy mandates set by owners, general contractors can now use Bridge to share data with different teams and projects from one main, easy-to-manage instance.
Specialty tradescan share necessary information such as project install progress with general contractors while maintaining their respective data within their own project instances. If they have multiple ongoing projects, trade teams can also aggregate their data into one main, easy-to-manage internal location for an aggregate view that strengthens analytics and future decision making.
Cloud collaboration solutions offer high agility to companies while enabling easy data sharing among remote and virtual users. Companies are now looking for services that offer easy access and increased productivity with the changing business requirements, thereby supporting the growing need for agile support.
Autodesk is obviously not the only player in the cloud collaboration marketplace. That market was valued at $31.78 billion in 2020 and is expected to reach $66.92 billion in 2026, according to Research and Markets.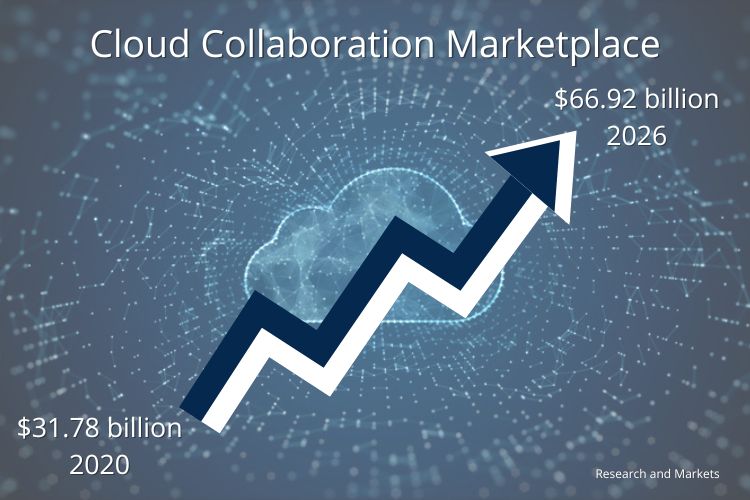 Unified communication solutions have been making it easier for workers to stay connected to other employees and for customers and clients to reach them no matter where they are. With the need to make the enterprises more efficient and collaborative, the last few years have seen collaboration solutions rise steadily. These tools have increased the productivity and unlocked innovation by enabling virtual teams to work together across geographies.
Another trend driving the demand for cloud-based solutions is the enterprises' desire to incorporate collaboration and communication tools into their business applications and workflow integration. Unified communication solutions, since their launch, have emerged as a cost-effective solution for multiple organizations across various industries. Moreover, the cloud-based delivery of these unified communications shapes the way organizations are managing their communication networks.
Companies like Microsoft offer various team collaboration tools and software, such as Office 365, Microsoft Teams, and Microsoft SharePoint. Microsoft Teams had more than 44 million active users in March 2020. Then came COVID. Today, more than 270 million people rely on Teams for hybrid work. More than 50% of organizations have standardized on Teams, according to a recent Morgan Stanley CIO survey. 
As the effects of the pandemic lessen, there has been a shift from remote to hybrid work. Active Teams Rooms more than doubled year over year, and Teams Phone now has nearly 80 million active users. To bridge the gap between digital and physical workspaces, Microsoft introduced a new meeting layout for Teams Rooms, called front row, designed specifically for hybrid meetings.
It brings the video gallery to eye level at the bottom of the screen so people in the meeting room can see remote colleagues in a more natural face-to-face interaction, as if they were in the same physical space. Content is centered on the screen and surrounded by additional meeting information and attendee sentiment, including chat, raised hands, and live reactions.
Want to tweet about this article? Use hashtags #construction #sustainability #infrastructure #IoT #AI #cloud #futureofwork