We've adjusted, compromised, negotiated, mandated, and gotten frustrated in the years since COVID-19 hit the scene in 2019. New phrases came into our lexicon besides COVID itself: "The new normal," "Quiet quitting," "WFH," "6-foot separation," and, of course, "mask up!" But words aren't the only thing that the pandemic changed. The thinking about our buildings, both residential and commercial, has changed, as well.
The impact and lasting effects of the global COVID-19 pandemic are placing new pressure on commercial building management systems. This can be seen in the growing demand and potential applications for sensor technologies. New sensing technologies and multi-function smart sensing devices are gaining market and providing a path to smart sensing that will enable commercial buildings to adapt to the changing demands from knowledgeable commercial building owners and tenants alike.
In the effort to move back to the office, commercial building owners and managers are looking at an array of competing approaches, technologies, and devices. The intent is to bring new levels of monitoring and control to building environments and that has created a market where building owners, operators, and tenants are incentivized to make buildings more appealing.
Traditionally, sensing in the commercial building has been tied to establish systems, such as HVAC (heating, ventilation, and air conditioning), fire and safety, and access control, but a range of additional environmental sensing technologies, sensors, and devices are coming to market at a time of great upheaval in the commercial building market.
Concerns over occupant safety, as well as more flexible space utilization, requires greater real-time building management intelligence. Increasingly valuable applications, such as occupancy sensing, can be supported by a host of sensing approaches, including microphones, cameras, motion sensors, pressure sensors, and even radar. Each can deliver real-time insight into building usage, but sensor deployment can also be selected related to the efficacy, cost, and end-user comfort. There are competing sensor technologies within each of those approaches, again with their own strengths and weaknesses.
According to global technology intelligence firm ABI Research, sensor shipments will grow from 18.5 million devices to surpass 300 million by 2030, a CAGR of 35%, as found in ABI Research's Smart Commercial Building Sensing application analysis report.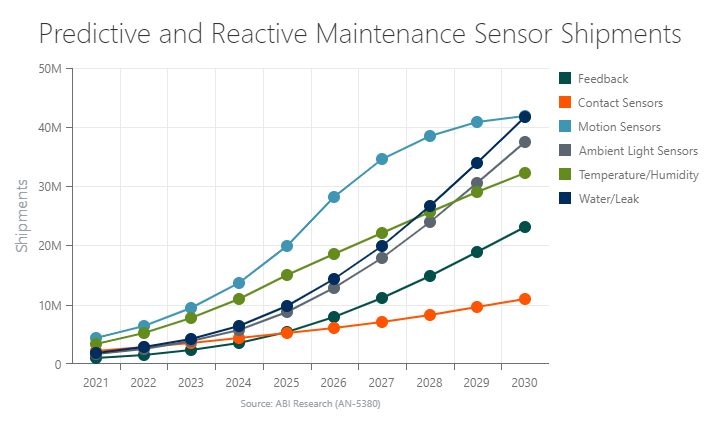 While sensor players such as Bosch Sensortec and TDK Invensense target multiple markets with their offerings, more specialist players such as photonic product vendor Lumentum and AI (artificial intelligence) player Ambarella have partnered to specifically support the commercial building sensing market.
At the same time, emerging integrators are leveraging feedback sensors into commercial building systems. "As occupancy sensing, or air quality, or energy management, space utilization, and preventative maintenance push further into commercial building operations, systems integrators, building management providers, and sensor and device developers along with manufacturers will have to ensure they select and integrate the best technologies for as many applications as possible," notes ABI Research.
At the end of the day, property owners have one main reason to deploy smart building sensors: Money. The ROI (return on investment) can come from a number of channels and will usually be top-of-mind.
However, other motivations, stemming from public safety concerns and compliance, can quickly move to the forefront. Other considerations include:
Energy Savings: Investing in smart building technologies helps identify sources of energy waste. As an example, occupancy sensors can ensure that lights are turned off in unoccupied rooms, spaces, and units.
High Property Value: A property that possesses greater space utilization capabilities and environmental care is more attractive than properties that do not. According to the EC (European Commission) report The Macroeconomic and Other Benefits of Energy Efficiency, smart buildings have about 11.8% greater lease value and up to 35% higher sales value. Moreover, a MIT (Massachusetts Institute of Technology) study concluded that smart-building owners collect, on average, 37% higher rent than other property owners.
More Flexibility: The shift back to in-office work environments also comes with a need for smaller and more adaptable shared spaces. These work conditions require greater control over resources.
Health and Wellbeing: The COVID-19 pandemic brought the health liability of a building environment to the forefront of corporate issues. As a result, there is a growing need for smart sensors that can measure air quality, an individual's temperature level, and the number of people in a space, among other factors.
Environmental Reporting: Both commercial and residential buildings face pressure from local and national authorities to track environmental impact. This will require sensors to be installed in smart buildings to collect data so that building managers can detect inefficiencies and find ways to improve performance/value. Additionally, ESG (environmental, social, and governance) reporting is seen as a way to increase the value of the property. For example, a smart apartment can pull in more residents because the technologies provide greater convenience and comfort.
Want to tweet about this article? Use hashtags #construction #sustainability #IoT #AI #cloud #edge