The causes are natural and man-made, the results are all too often catastrophic. Wildfires are a phenomenon that effects millions of acres and thousands of people every year, not just in California, but throughout the country. Property is directly attacked by wildfires, causing evacuations and loss; health is attacked by smoke as well as the fire itself. People and animals are lost, and homes are destroyed. And with the changes in climate conditions, wildfire "season" is no longer a valid term: the destruction from wildfires is a year around concern.
The people who live in rural areas and subjected to wildfires have been cautioned to clear areas around their homes, avoid debris accumulation, and create a "defensible space" around buildings. According to the CalFire (California Dept. of Forestry and Fire Protection), a defensible space is the buffer you create between a building and the grass, trees, shrubs, or any wildland area that surround it. This space is needed to slow or stop the spread of wildfire and it helps protect a home from catching fire—either from embers, direct flame contact, or radiant heat. Proper defensible space also provides firefighters a safe area to work in, to defend the home.
California has laws that can be impacted by wildfire. Zones 1 and 2 currently make up the 100 feet of defensible space required by law. Assembly Bill 3074, passed into law in 2020, required the Board of Forestry and Fire Protection to develop the regulation for a new ember-resistant zone (Zone 0) within 0 to 5-ft. of the home by Jan. 1, 2023. The intensity of wildfire fuel management varies within the 100-ft. perimeter of the home, with more intense fuel reduction occurring closer to the building.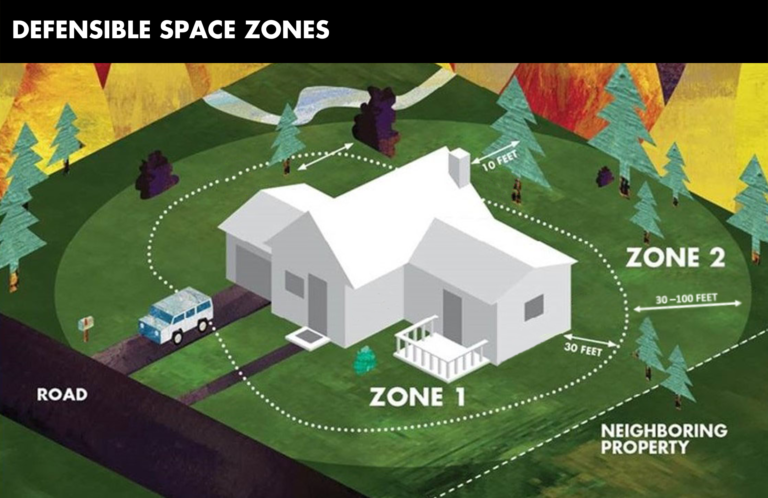 In a perfect world, homes would be fireproofed in areas where fires are likely; in the real world, no building method has been found to "fireproof" a building. Steel structure? Concrete? At some point a fire is hot enough to melt steel and destroy concrete, and even before concrete is destroyed all contents within a building would be destroyed. When a hundred structures are burning within feet of each other and the wind is blowing in your direction, the only way to survive is to evacuate because the fire is too intense for any typically constructed building.
According to Healthy Building Science, experts now use the term "fire hardened," and everyone agrees that you can significantly reduce the risk of catastrophic fire by following some simple recommendations. Fires need fuel, oxygen, and heat. If you eliminate any of these variables, you can extinguish a fire. Thinking preemptively, if you reduce or eliminate any of these variables in an area you reduce the risk of fire occurring.
Fuel – Gases (e.g., propane, oxygen, etc.), liquids (e.g., gasoline, alcohol, etc.) and solids (e.g., leaves, trees, fences, decks, wooden siding, etc.) provide fuel for fires. Eliminating or protecting these fuels from fire is the most obvious means of fire hardening.
Oxygen – Many fire suppression systems, such as fire extinguishers or helicopters dropping flame retardant foams, operate by removing oxygen from an active fire. Shoveling dirt over a campfire is an example of suffocating a fire.
Heat – Combustion requires an initial heat source. Ignition may start from a chemical reaction, lightning, electrical sparks, cigarette butts, or a random ember flying from an unprotected chimney. Cooling materials will slow a fire, and if you remove enough heat fast enough, it will extinguish a fire.
Here are some tips from CalFire:
Roof
The roof is the most vulnerable part of your building. Buildings with wood or shingle roofs are at high risk of being destroyed during a wildfire. Build your roof or re-roof with materials such as composition, metal, or tile. Block any spaces between roof decking and covering to prevent embers from catching.
Eaves and soffits should be protected with ignition resistant or noncombustible materials. Ignition resistant building materials are those that resist ignition or sustained burning when exposed to embers and small flames from wildfires. Examples of ignition resistant materials include "noncombustible materials" that don't burn, exterior grade fire-retardant treated wood, fire-retardant treated wood shakes and shingles, and any material that has been tested in accordance with SFM Standard 12-7A-5.
Walls
Wood products, such as boards, panels, or shingles, are common siding materials. However, they are combustible and not good choices for fire prone areas. Build walls with ignition resistant building materials, such as stucco, fiber cement, wall siding, fire retardant, treated wood, or other approved materials. Be sure to extend materials from the foundation to the roof.
Fires are not only a danger to residential areas. In 2017, 72 people lost their lives in London during the Grenfell Tower fire. As The Guardian newspaper wrote in an article on the fire, "Every death was avoidable." As the insulation performance standards for buildings are being strengthened to reduce greenhouse gases, external insulation methods such as EIFS (exterior insulation finishing system) construction is increasing.
ACM (aluminum composite material) with insulation is commonly used. However, in the standard ACM cladding method, heat loss often occurs due to a "heat bridge" in which warm air or heat inside the building escapes through the building structure due to the space existing between the outer wall of the building and the finishing material. The result is that fires in high-rise buildings rapidly spread vertically due to the stack effect that occurs when strong air generated rises or falls vertically.
There are now ways to mitigate some of these dangers. The KICT (Korea Institute of Civil Engineering and Building Technology) has developed an exterior wall construction method that has good insulation performance and is resistant to fire. The Dept. of Fire Safety Research in KICT, developed a technology that addressed these problems. It was constructed as a unit module with an insulating material attached, but the hollow layers of the vertical and horizontal parts existing at the junction between these modules were reinforced with insulating and flame-retardant materials.
The developed technology is a new building external wall structure and construction method that can effectively reduce heat loss and fundamentally block the spread of fire by filling the existing empty space with insulation and flame-retardant materials. Two effects can be expected at the same time: energy saving and fire safety performance improvement.
A large-scale fire test was conducted at the Dept. of Fire Safety Research to verify the performance in preventing fire spread. In the case of fire spread delay time, compared to the existing ACM cladding that did not fill the hollow layer, it secured a longer delay time, from 5 minutes to 23 minutes.
These concepts and materials are, in no way, a substitute for having a professional assessment, and engaging licensed design and construction professionals to harden your building design and construction. And just reading this won't do anything to reduce your risk: get out there, take these suggestions, make some improvements.
Want to tweet about this article? Use hashtags #construction #sustainability #infrastructure