Natural wood comes from trees, of course. The world's largest tree, a coastal redwood (Sequoia sempervirens) in the heart of Redwood National Park in California, is 380 feet tall. The Hyperion, as it is known, ranks as the tallest tree in the world and is also taller than the tallest man-made wooden building. So far.
Wooden buildings are hardly new. Europe's Neolithic long house, a narrow timber dwelling built in 6000 BCE, is one of the largest buildings constructed during that period, with a capacity of housing around 30 people. Unfortunately, it is known only from remains while the Horyu-ji temple in Ikaruga, Japan, which includes a five-story building, was constructed recently–607 CE—and is still standing.
Over the centuries, wood construction benefited from advances in tools—from stone to steel—and from methods of treating the timber for strength and endurance. Engineering the wood material used in construction also improved its application range. The CLT (cross-laminated timber), for example, is produced by gluing strips of laminated wood together at 90-degree angles to one another, before they're compressed into huge beams or panels under extreme pressure.
The LVL (laminated veneer lumber), on the other hand, is a composite product manufactured from multiple thin layers of veneer that are aligned with the length of the finished lumber. LVL can be used for many structural applications such as I-joists, headers, rimboards, beam, truss, and even special applications such as custom-made panels for marine uses. Oh, and it is also the method for making skateboards.
Data shows that mass timber performs as well as or even better than other building materials in fire, earthquake, and wind conditions. In fire tests, mass timber panels char on the outside, forming an insulating barrier that protects interior wood. Therefore, CLT and other wood-based materials are making timber a serious choice for a wider-range of buildings, including what would reasonably be called skyscrapers.
Really? How tall is a skyscraper, anyway? The Council on Tall Buildings and Urban Habitat has these as a starting point for determining if a building is a skyscraper:
Tall: A building of perhaps 14 or more stories – or over 165 feet (50 meters)
Supertall: A building more than 984 feet (300 meters)
Megatall: A building more than 1,968 feet (600 meters)
One major factor: the structure must be a building and be inhabitable. Tall radio/TV towers don't count. There is, however, no restrictions on what materials are used in the construction of a skyscraper. And that leads us to tall wood buildings, now and in the future.
The Norwegian town of Brumunddal, population under 10,000, has the distinction of being home to the currently tallest wooden high-rise. The 280-foot-tall (85.4 meters) Mjøstårnet tower became the world's tallest timber building when it opened last year. The 18-story structure contains apartments, office space, and, naturally, the Wood Hotel.
The structure is composed of CLT timbers but the upper floors had to be made from concrete to add weight to the building so it wouldn't sway too much in high winds. In the vernacular of the times, it is a hybrid, not a pure wooden structure. This presents one of the drawbacks to very tall wooden buildings. Wood is structurally strong for its weight, making a lighter building than steel or concrete. Taking that into consideration, the race for tallest wood (hybrid or pure) building is on in earnest.
While cities like New York and Chicago have long jockeyed for first place in the tallest U.S. building category, few would think of Milwaukee as a contender. But in the subset of tall wooden buildings, they are thinking ahead if not pulling ahead, at least temporarily.
Led by C.D. Smith and Catalyst Construction, with Swinerton's Timberlab division in charge of procurement, logistics, and installation of the mass timber, the Ascent tower, at 284-ft. (86.6 meters), is poised to become the tallest hybrid timber structure in the world upon completion in summer 2022. The project will have 259 apartments sitting atop a 6-story podium housing retail, parking, a swimming pool, fitness center, and a full amenity floor atop the building with sky decks, a wine tasting room, lounges, and even an outdoor movie screen.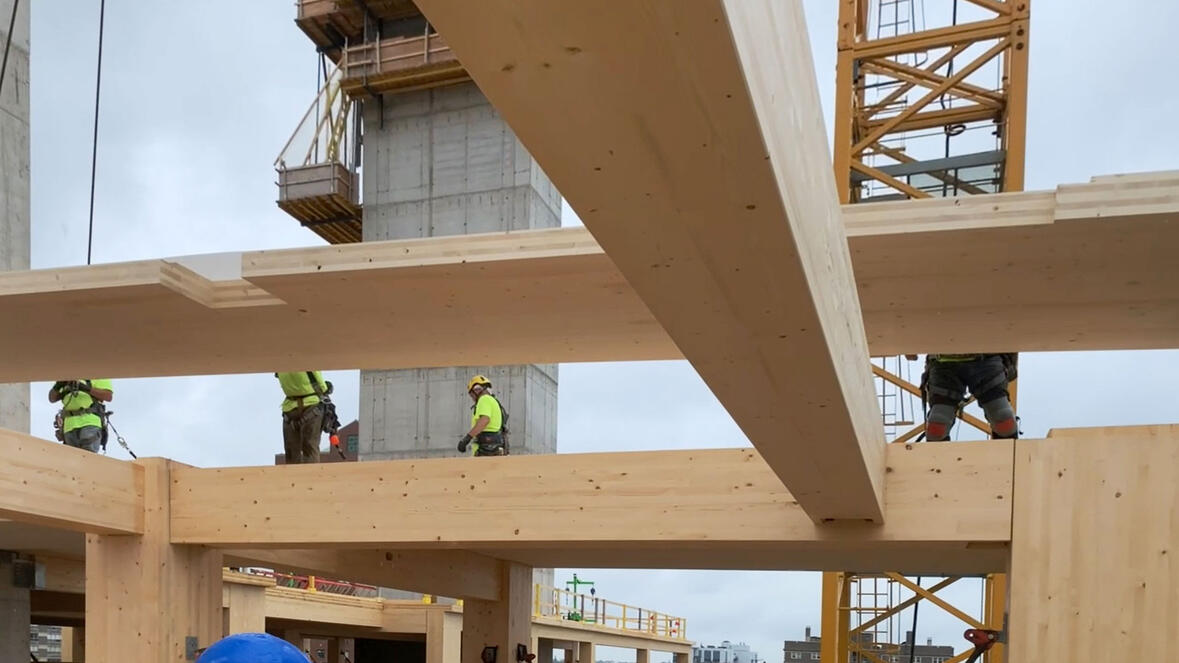 Unveiled in 2018, Ascent has garnered international attention from architects, engineers, and planners worldwide. One unique aspect is the building process which involves first building Ascent digitally, down to the smallest details, revealing any potential conflicts upfront. This BIM (building information modeling) approach eliminates time spent in the field resolving those conflicts, and, coupled with the offsite fabrication nature of mass timber, will shorten Ascent's construction schedule by 4-5 months.
Ascent will be 25 stories tall with the base and shafts for elevators and stairs done in concrete while the rest of the structure will use cross-laminated timber and glulam. Glulam is a stress-rated engineered wood beam composed of wood laminations, or lams, that are bonded together with strong, moisture-resistant adhesives. The timber is international, as well. The COVID-19 pandemic didn't stop the procurement of 1,150 glulam columns, 1,320 glulam beams, and 1,273 CLT panels from Austria.
Although some locations are eager to consider tall wooden structures, that's not true everywhere. In the forested country of Finland, most residential apartment buildings have a maximum of 9-story. At the end of 2018, there were a bit more than 61,000 residential apartment buildings in Finland, of which only 236 were 10-story or higher. Currently, there are two tall wooden residential buildings in Finland, the 14-story Lighthouse Joensuu, built in 2019 with laminated veneer lumber structure, and the 13-story HOAS Tuuliniitty, the tallest wooden residential building made from volumetric modules.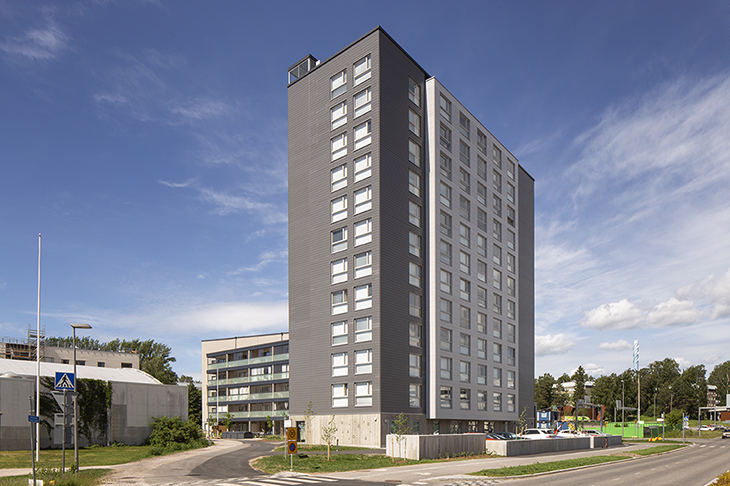 The HOAS (Helsinki Student Housing Foundation) commissioned the wooden apartment building in Tuuliniitty. It is basically assembled from prefabricated CLT volumetric elements that serve as the building framework. The interiors of the 165 solid wood apartments were almost completely fabricated under factory conditions. When these apartment elements arrived onsite, they already included finished surface materials, fixtures, and household appliances.
CLT box elements enable maximum utilization of wood in an environmentally sound manner. The load-bearing frame is made of carbon-storing massive wood. The bare wooden surface – aesthetically pleasing and acoustically excellent – can be left visible on interior surfaces within the limits defined in building regulations.
As industrial manufacturing along with design and construction know-how improves and costs drop, larger-scale wooden apartment construction is becoming increasingly common. In particular, the construction of low-rise wooden apartment buildings is beginning to settle down so well that industrial wood construction, especially for them, can no longer be considered purely experimental.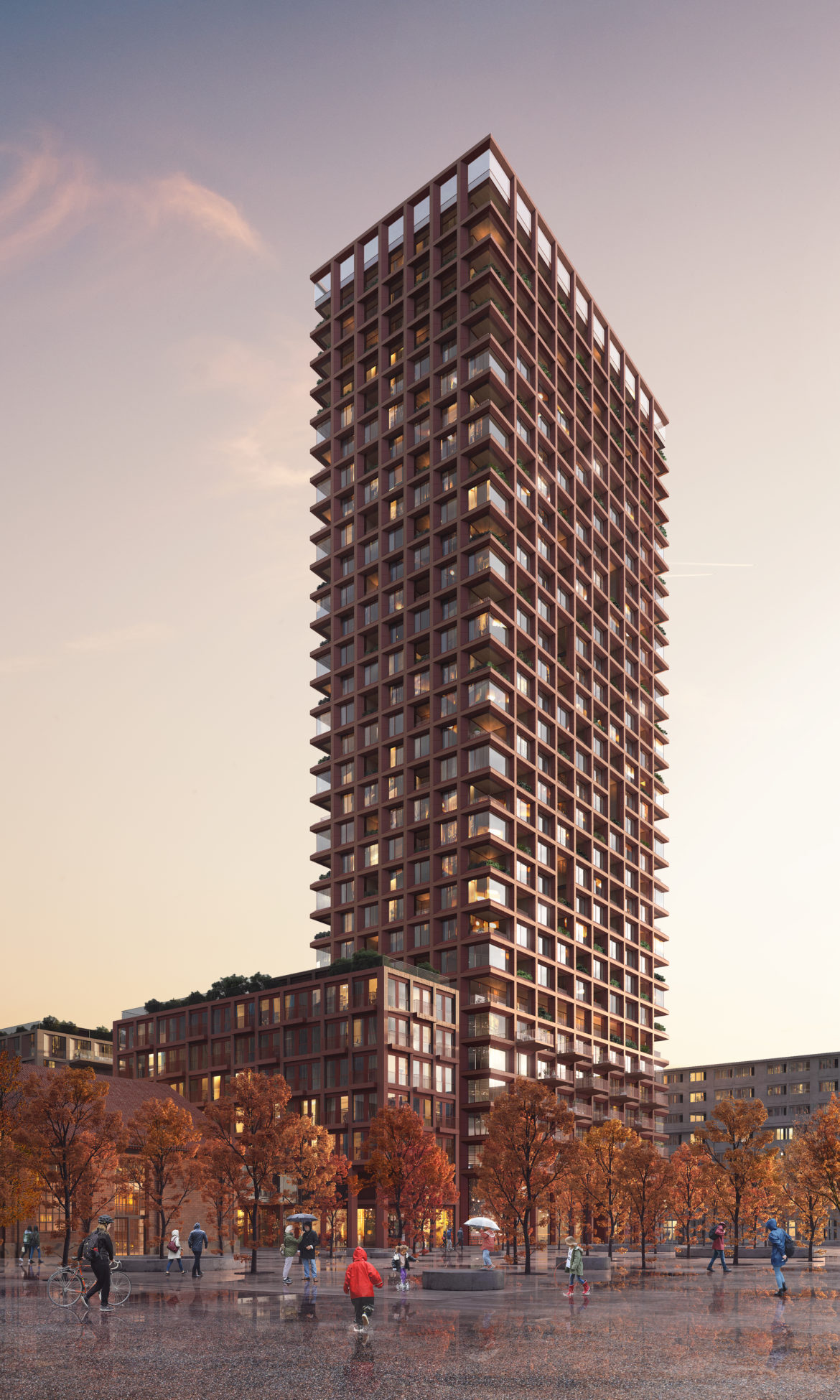 Two buildings in the construction and approval stages demonstrate the extent that timber can be used for elevated living. To define each in a way that makes them unique is a public relations challenge.
Take a tower under construction in Switzerland, billed as the tallest residential building with a load-bearing timber construction. Its height of 100 meters, which will make it taller than either the current leader in Norway or the challenger going up in Milwaukee, introduces wood as a natural replacement for concrete.
The Rocket&Tigerli, named after locomotives produced at the site in Winterthur, close to Zürich, consists of four buildings that mixes regular housing, student housing, a restaurant, retail spaces, sky-bar, spa, and hotel. The Swiss company Implenia and the Swiss Federal Institute of Technology of Zürich, worked together in developing a new system where the concrete core has been replaced with wood, resulting in the individual beams coming in at a lower weight. This makes it possible to build taller constructions while, at the same time, ensures that the entire building process achieves a lower amount of embedded carbon.
Unlike most tall wooden buildings, Schmidt Hammer Lassen Architects, the designers, decided to blend the building in with its urban surroundings rather than leave it in natural wood. Upon its completion in 2026, the façade will be covered in dark red and yellow terracotta bricks combined with details in dusty green, a palette that reflects the red roofs and yellow bricks of the historical buildings in the area.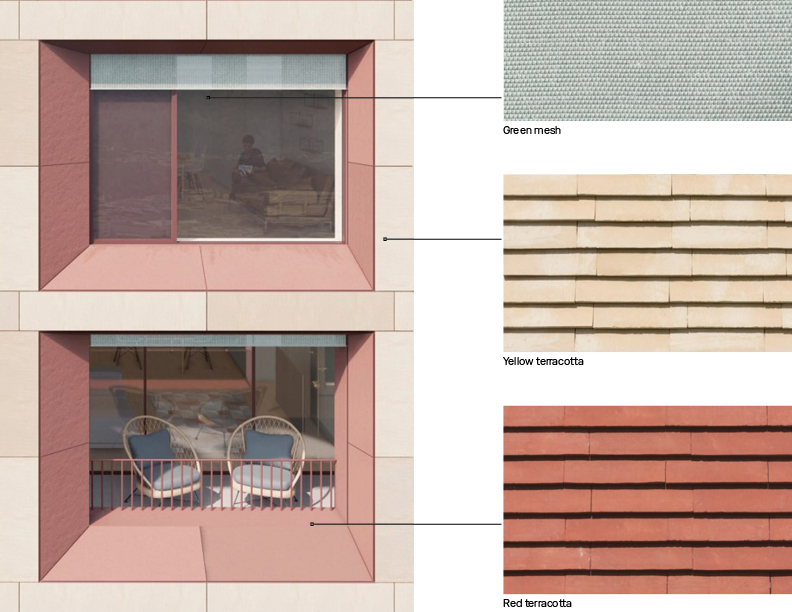 While Milwaukee's Ascent and Winterthur's Rocket&Tigerle towers are under construction, the major contender for the record books is under consideration. Proposed for the city of Perth, Australia and known as C6, the 245-apartment structure has not been approved as of May 2022. If, indeed, it is built, its planned height at 183 meters, about 600 feet, will make it almost 100 meters taller than its nearest rivals.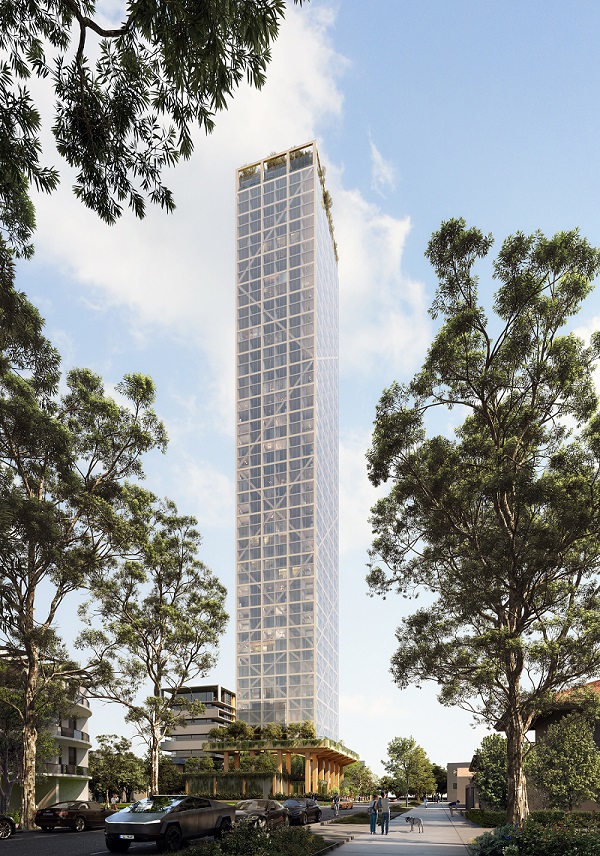 The name, C6, is derived from the address at 6 Charles Street and, according to the developers, Grange Development Group, the building will be carbon negative leading to a secondary reason for the name—carbon is the sixth element on the periodic table.
The $350 million Elenberg Fraser-designed project, a hybrid wooden building, will include about 7400 cubic meters of timber in its construction – 42% of its total structure – plus steel, concrete, and other materials. If it is approved by the City of South Perth, C6 will be Australia's second carbon-negative building, meaning it will remove carbon dioxide from the atmosphere rather than adding it.
Adding to the ecological status of C6, it will include 80 Tesla Model 3 electric automobiles for the residents' use and include onsite EV charging stations in every parking bay, all using renewable energy sources.
Want to tweet about this article? Use hashtags #construction #sustainability #futureofwork