Smart cities, smart houses, smart facilities, smart everything depend on the strength of the available communications networks. The IoT (Internet of Things) requires direct and indirect communications, device to device, device to central hub, device to monitoring equipment. The increasing deployment of cellular IoT modules in smart city infrastructure and building automation verticals is expected to propel market growth according to VMR (Verified Market Research).
Their recent report, Cellular IoT Market, puts the market value at $4.30 billion in 2021 with a prediction of it reaching $29.8 billion of 2030, a CAGR or 24.8% from 2022 to 2030.  A companion report, IoT In Smart Cities Market, valued the IoT in smart cities market at $112 billion in 2021 and projected it to reach $735 billion by 2030, growing at a CAGR of 23.04% from 2022 to 2030.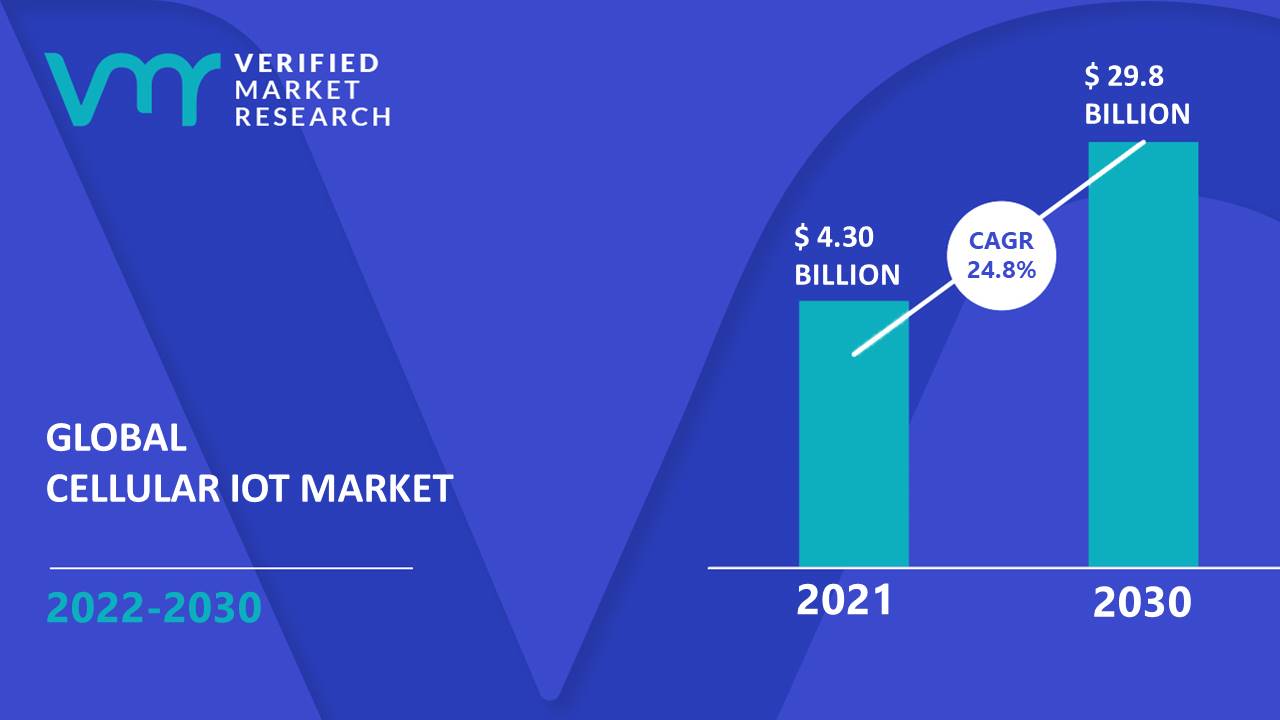 The increasing use of cellular IoT modules in town infrastructure and building automation verticals is predicted to propel market growth throughout the forecast period. Streetlights, traffic sensing and management devices, infrastructure observance devices, trash management devices, and parking management devices are some important uses of cellular IoT in smart cities.
Implementing IoT and telematics solutions to observe instrumentation and on-road assets, due to the restricted variety of technicians, is projected to fuel the demand for vehicle telematics. Telematics vendors embody cellular IoT modules into their product offerings, making it easier for off-highway vehicle OEMs (original-equipment manufacturers) and fleet managers to gather and analyze information to identify significant usage trends and issues within the field.
The demand for high-density, low-power, and inexpensive devices on a growing scale is predicted to drive the business in the future. The flexibility to control with local devices and networking technologies, like Wi-Fi and Bluetooth, with the adoption of LTE and technological innovations within the IoT system, are expected to fuel the market throughout the forecasted years.
Authorities around the world are attempting to implement smart city initiatives in areas like safety, mobility, and utility management. Additionally, concerns like greenhouse gas emissions are driving the adoption of energy management and other smart technologies.
Smart city initiatives are applicable to urban developed cities, for the economic management of assets and resources, like traffic and transportation systems, power plants, facility networks, waste management, info systems, schools, libraries, hospitals, and different community services. With growing urbanization, the requirement to manage infrastructure and assets are encouraging countries to take a position on the smart city.
The implementation of IoT services helps in providing advanced security solutions and the ability to monitor assets from a remote location with no physical presence. There is also a new specialization in economical energy management solutions to make sure correct metering is done and to minimize waste. The transportation infrastructure in smart cities is additionally giving IoT technology vendors an opportunity to make sure there is correct monitoring and management, minimizing carbon emissions, and supplying better route optimization.
The market is divided into Solution and Services. The Service segment in the smart cities market is expected to grow, as major players are focused on offering services. Through professional services, vendors offer comprehensive services by deploying the latest techniques and tools, skills, knowledge, as well as strategies to address the need for IoT in smart cities.
The market is also divided into smart transportation, smart building, smart citizen, and others. The smart citizen service application segment accounts for a larger market size during the forecast period. IoT has wide applications in healthcare, education, and public safety.
Want to tweet about this article? Use hashtags #construction #sustainability #infrastructure #IoT #AI #5G #cloud #edge #futureofwork