"Houston, we've had a problem…" When Apollo 13 encountered trouble with an oxygen module explosion in 1970, ground controllers in Houston faced a formidable task. Completely new procedures had to be written and tested in the simulator before being passed up to the crew. As the astronauts slept in the lunar module, the command module had to be powered down to preserve the batteries.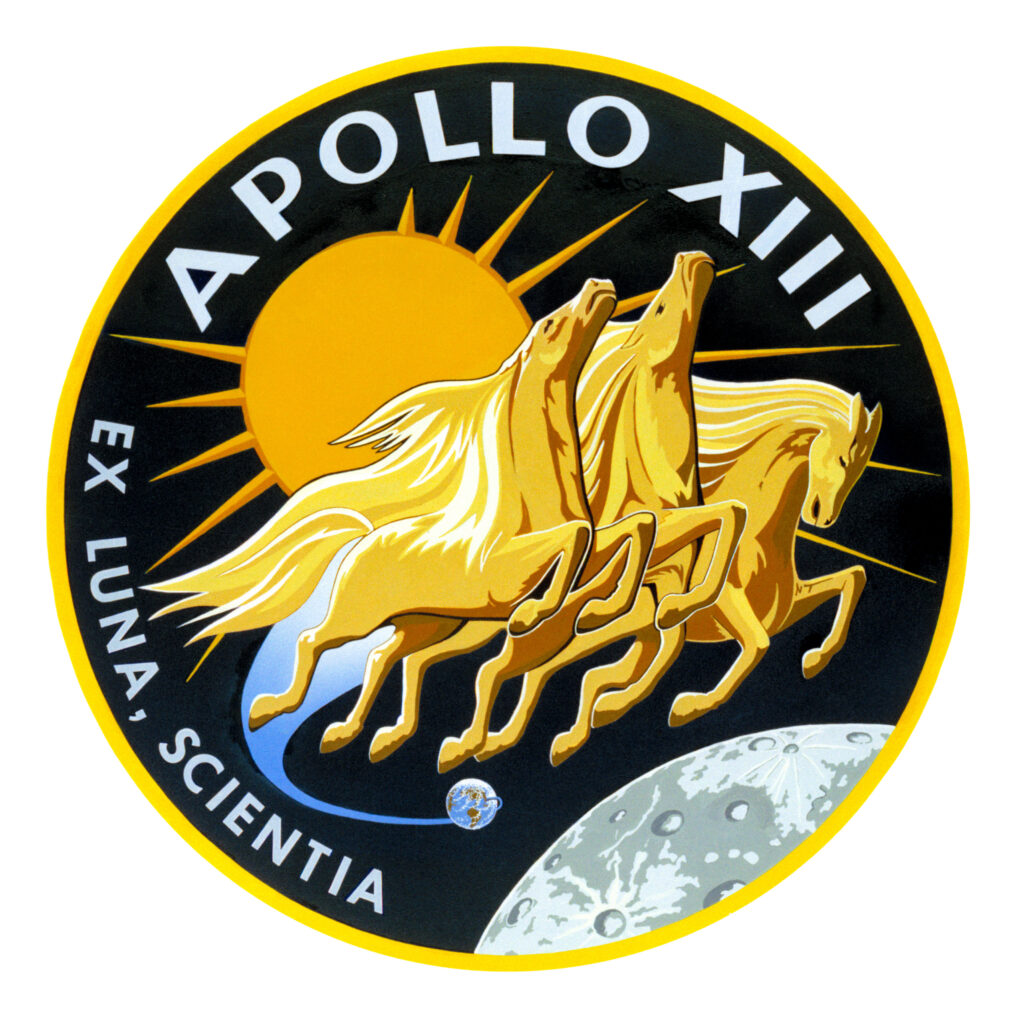 NASA engineers used a simulator, what amounted to a twin of the command module, and a separate twin of the module's electrical system to devise a series of steps to power up the frozen space craft without draining what little power remained in the batteries. The result of having a duplicate of the Apollo modules on the ground saved John "Jack" Swigert, Fred Haise, and James Lovell. A process that normally took two days on the launchpad was completed in under two hours. It was an extraordinary feat, and the technology has only matured since then.
We no longer depend on massive computers housed in their own climate-controlled rooms as was the case in the 1960s. Today's computers can replicate the functions of those early giants while showing videos on a hand-held cellphone. Rarely do daily activities require more computing power than found in a laptop or tablet; desktop computers are relied upon for the heavy calculating. And while physical simulators are still used in training pilots and astronauts, virtual reality, often based on digital twin data, takes the place of most of the systems.
As the "Rambling wrecks at Georgia Tech" explain, the idea of a digital twin is not new. The early efforts were as models of physical devices and over the years, digital twins have evolved into an invaluable tool, encompassing representations of logical—and even biological systems—that can shorten design times, reduce costs, and increase safety.
Building an exact digital version of a project, for example, is commonplace in construction now and has been for years. Architectural drawings, CAD (computer-aided design) images, or BIM (building information modeling) images would all be considered "twins" in a way. Although, while there might be images accompanying BIM, as we always say been is a process, not a technology.
The advances that are happening now with true digital twins, and that will be taking off in the coming years, are in what can individuals can do with—and learn from—a much more robust digital twin.
"Digital twinning is about the building and all the components that are in the building. Where they are, what condition they're in, all kinds of qualities," says Russell Gentry director of the Digital Building Lab at Georgia Tech.
In the coming year, Gentry expects the idea of using a digital twin will grow as its uses expand. Monitoring for maintenance needs, identifying potential problems like leaks or water damage, dialing in HVAC (heating, ventilation, and air conditioning) system efficiencies are just a few of the changes that are happening or soon will be. Digital twins will be used to improve building safety, efficiency, and even retrofitting existing buildings with new and improved technologies.
However, while they have been around for a while, albeit in different forms, they're still regarded as novel. And like many emerging technologies, they can be easily misunderstood. In the meantime, digital twins are being used at greater and greater scale.
The digital twin market is projected to rapidly grow within the next few years, thanks to these innovative uses. According to MarketsandMarkets research, the market was valued at $3.1 billion in 2020, but is expected to reach $48.2 billion by 2026. New standards like ISO/DIS 23247 will help ensure new digital twin applications are compatible, secure, and scalable.
For its Future of the Economy Report, Dell Technologies partnered with Institute for the Future to explore how emerging technologies will reshape our economy in the next decade. The report notes digital twins will empower the shift to automated, iterative manufacturing that can meet demand on the fly. While still an emerging technology today, Dell, like most technology companies, believes digital twins are the future. That means now may be the perfect time for CTOs to start collaborating with other leaders across their enterprise to understand how to put digital twins to work.
Defining Digital Twins
Of course, that requires an understanding of what "digital twin" means. While there is debate about who first uttered the now phrase, "You cannot improve that which you cannot measure or define," it has taken on new meaning with the evolution of digital twin technology. What does the term really mean? Can we agree on the definition so we can agree on its use?
Most often, people think of digital twins as representations of an asset's logical (as-designed) and physical (as-operated/as-maintained) constructs, for both structural and functional configuration of an operating asset. There are, however, many other types of digital twins, such as digital representations of factories and assembly lines, digital representations of operating networks (e.g., air, rail, marine, transportation networks), digital representations of computing networks, digital representations of multi-echelon supply networks, digital representations of operational design risks and, most recently, digital representations of financial profitability and risk.
Another functionality that can be added to the digital twin equation is servitization. The WEF (World Economic Forum) explains that, in a servitization model, the customer pays a fixed fee per unit of service consumed, while the ownership of the system remains with the technology provider, who remains responsible for all operation costs. As such, the model strongly incentivizes the equipment owner—that is, the service provider—to think long-term when designing and selecting the technology.
CapGemini, a global consultancy, adds that, whether the term is power-by-the-hour, performance-based logistics, or tire-by-the-mile, servitization is focused on optimizing vendor profits and reducing financial risk by bundling products, services, and financing to increase asset RAMS (reliability, availability, maintainability, and supportability) at reduced operating cost. This is what some are calling a digital risk twin or digital profit twin.
Ultimately, the goal is to have mature digital-analytic capabilities. The digital thread and remote condition monitoring are critical capabilities for capturing structural and functional data and delivering it to central processing nodes. Today AI (artificial intelligence) and ML (machine learning) can then provide descriptive and predictive insights into maintenance to forecast degradation or failure of components. The next steps are AI and ML diagnostics and task prescription to learn, via digital twin, causality of failure modes and degradation to determine the prescription options for various operational outcomes.
As IEEE author Roberto Saracco notes, in the last decade we have seen an evolution of the concept of digital twin as a model of a physical entity, mostly used in the design phase, to a mirroring of an existing physical entity that can be used as a reference model. The means to synchronize a given physical entity with its associated instance could differ, from a mere data entry to a continuous flow of data from the physical entities, usually leveraging on sensors, embedded in the physical entity, connected through a network—IoT (Internet of Things)—to the digital twin.
As soon as the digital twin can influence the physical entity it, potentially, can become an active component. The digital twin "influences" the physical twin just by acting as a gateway for an external controller to operate on the physical twin. On the horizon is the possibility for self-generation of digital twins, of hierarchies of digital twins, and meshed networks of digital twins, all together giving rise to an emergent ambient intelligence.
In construction, beyond the application in design and post-construction maintenance, digital twins can be used for a variety of functions. For example, as Bosch Building Solutions explains, digital twins can be used in retrofitting operations on existing buildings. To forge a digital twin that's a virtual image of a facility, data can be culled from existing equipment, software, systems, and sensors used to manage buildings and lighting, energy consumption, and security systems.
Other relevant data from a variety of sources can also be integrated. Information on floors and rooms may already be available in the form of Microsoft Excel spreadsheets, and any other data available from BIM projects can contribute more. In case even more data are needed, they can be captured by installing additional sensors. This approach is what also makes digital twins such an attractive approach for existing buildings.
Partner Integration
One growing trend is to collect onsite data, progress reporting, and status of individual segments of the project via cameras. Several vendors have come forth with both camera and software to integrate the images with the BIM and digital twin. For example, EarthCam 4D and Evercam both provide equipment that can work with digital twins on sites. Both companies have a fixed position camera and both have used Bentley iTwin platform to be able to overlay the model on top of the camera view in order to compare the two.
EarthCam 4D augments Bentley Systems'SYNCHRO 4D models with high-resolution photos from multiple cameras throughout the jobsite, overlaid in precise alignment. Viewers can zoom in and out and the associated live images remain synched. Unique transparency/opacity and model color adjustments enable new ways to compare and contrast models with reality over time.
Having realtime imagery synched with a SYNCHRO 4D model in a single interface provides immediate, realtime evidence of every steel beam placement, and every window installation against 4D models, simplifying project management for SYNCHRO users worldwide.
Evercam's approach with Bentley Systems is similar with the major difference being the software. The advantage of Evercam's system is that it doesn't use any specialist hardware, all the "brains" are in the software. This makes the equipment onsite cheaper according to the company and more robust and replaceable than the custom solutions. It also means Evercam has moved faster than others in developing AI and geospatial abilities since its focus is on the software.
Evercam touts the real significance of the BIM integration is not so much to visually compare two images, although that is nice. The real value in accessing the data contained inside the BIM model is to better identify and understand what's happening on the construction site. This is central to its mission of having an impact on construction productivity.
Data Management
Frequency and duration of use, temperature, or access control: facility management benefits from merging a wide range of parameters and data from different systems. This approach not only generates valuable insights for optimally taking advantage of a building's various parts but can also be applied to derive clever solutions for managing space. A digital twin for operations gives owners and building managers transparent data about the status of their buildings and lets them make informed decisions on how to improve the tenant experience while reducing costs.
Over time, these improvements can be applied to other properties to help lower the carbon footprint for larger communities.
Maybe some rooms are used much less than was originally thought, or they are constantly kept at a specific temperature. This reveals opportunities for improving energy efficiency. Today, many companies still possess little reliable information on how individual rooms, whole floors, or groups of buildings are actually used. But if they knew, for instance, that certain areas are not being fully taken advantage of, they could reduce them and lower their operating costs. There is great potential for IoT services that improve, speed up, or automate processes.
ARC Advisory Group looked at how digital twins can integrate with the concept of virtual commissioning. The VC (virtual commissioning) of production automation, an established technology and process, is merging with the more expansive scope of the digital twin. VC is typically a one-time validation of an automated production system. In contrast, the digital twin represents an on-going analytical and optimizing process that takes place in realtime.
While VC represents the simulation and modeling of machines and production systems to virtually validate the system and the controls that automate it, the concept of the digital twin is broader in scope and involves capturing sensor data from physical machines and systems in operation and using that data to create simulations in realtime. Because of its realtime characteristics, a digital twin can simulate a system while it is operational. This allows manufacturers to monitor the system, create models for adjustments, and make changes to the system.
Advanced virtual simulation applications offered today enable users of digital twin systems to optimize production systems and assets in the field in realtime. Additionally, simulations of physical products and assets allow for design improvements by product engineers. In 2022, look for additional smart manufacturing solutions that leverage both VC and digital twin technologies converging together to be deployed that better simulate, predict, optimize, and maintain products, assets, and production systems.
Digital twins can benefit construction at many stages, but they can also be difficult and expensive to generate. The infrastructure bill passed by Congress in 2021 is starting to provide funds for projects that will greatly benefit from digital twin applications. New services for surveying existing and potential infrastructure could help cities prioritize opportunities to qualify for more of this money.
Maturity Curve
The Digital Twin Consortium has released the Infrastructure Digital Twin Maturity: A Model for Measuring Progress whitepaper to guide infrastructure stakeholders, specifically, as they incorporate digital twins in their projects. The paper outlines five digital twin maturity levels for anyone involved in managing a digital building throughout its lifecycle. Digital twin maturity levels include:
Dinosaur: Laggards who resist using digital twins and digitizing legacy projects.
Average: Includes stakeholders who observe digital twins passively. They are the first to automate to eliminate conflicts in the field, but they operate in siloes.
Leader: These active observers of digital twins recognize the benefit of data sharing, but they often do not involve business owners in the process.
Evangelist: Sees the benefit of digital twins, defines active digital twin prototypes, and defines data sharing between point solutions.
Pioneer: Actively adopts digital twins across the organization and eventually the supply chain.
VentureBeat believes construction digital twins will help track progress on new construction to optimize scheduling, catch missing details, and ensure safe construction practices as the federal funds flow in. It notes construction-related spending accounts for about 14% of the world GDP (gross domestic product) and is expected to grow from $10 trillion in 2017 to $14 trillion in 2025, with about $1.6 trillion in additional value that could be created through higher productivity.
McKinsey identified seven best practices that could use digital twins to boost productivity by 50 to 60%:
Reshape regulation — Accelerate approvals with testable plans and enable the adoption of performance-based requirements.
Rewire contracts — Improved information sharing enables new contractual models.
Rethink design — New designs could be tested and iterated more efficiently.
Improve onsite execution — Easier detection of scheduling clashes.
Infuse technology and innovation — Improve orchestration with IoT, drones, and AI planning.
Reskill workers — Facilitate new training programs for innovative technologies using VR.
Improve procurement and supply chain — Better harmonization between current progress and deliveries.
The massive infrastructure investment could also help galvanize investment in new tools for managing portfolios of digital twins at scale. Cities, states, and government agencies will increasingly adopt tools for prioritizing, measuring progress, and identifying bottlenecks across hundreds or thousands of individual projects.
For example, Singapore has created a complete digital twin of the city-nation to track traffic, pollution, climate, and city layouts so city managers can test accessibility options, see the potential impact of new construction, manage emergency responses, and monitor city health. Back in the U.S., Cityzenith is helping Las Vegas building owners transition to net-zero carbon emissions using its SmartWorld Digital Twin technology.
The initial phase of the Digital Twin Project in Las Vegas encompassed an area of the downtown, integrating local city data which could be used in the future to fundamentally transform mobility, air quality, noise pollution, water management, and, in particular, emissions from major buildings across the city. The base twin is now completed, and in the second quarter of 2022, stakeholders from Las Vegas will be invited to join phase 2 of the digital twin project, including real estate owners, government agencies, university researchers, data partners, architects, and casino operators.
Cityzenith is providing the project's digital twin technology as part of its Clean Cities – Clean Future initiative to implement its SmartWorld Digital Twin platform in major world cities, a program designed to help drive down urban emissions and significantly improve cost efficiencies for local building owners. SmartWorld aggregates, analyses, manages, and reports emissions performance across multiple assets in realtime to ensure on-going operational metrics and compliance goals are maintained.
Construction has traditionally been a hands-on process. The combination of pandemic-related concerns and improved construction digital twins could accelerate the adoption of remote construction work. Some firms are finding that this is not only safer but also more efficient. Construction managers can track more sites without leaving the office. Helmet-mounted cameras, drones, and AI-powered capture processes can streamline documentation and validation processes. Down the road, city building inspectors could also automate inspections and reviews using a combination of AI and certified capture processes.
Digital twins will accelerate the adoption of more energy-efficient building designs in several ways. First, better energy performance models will help architects assess the energy implications and estimated operating costs of various tradeoffs earlier in the design process. Second, better structural performance simulations could allow progressive building departments to vet the safety of new construction techniques like 3D-printed homes that building codes don't yet support.
The COVID-19 pandemic across the world, however, has impacted the market for digital twin applications. Because the world witnessed a temporary shutdown of different industries due to the lockdown implemented by governments in 2020, economies and industries came under financial stress during the lockdown period. Companies reduced their investment in new technologies, such as digital twins.
Due to the COVID-19 epidemic, the digital twin market succumbed to a decline in 2020 since the testing and simulation procedures for the adoption of the virtual model came to a halt. P&S Intelligence estimated the global digital twin market generated revenue of $3.2 billion in 2020, and it is expected to reach $184.5 billion by 2030. However, in the post-COVID-19 period, the continued focus on the digitization of industrial processes and development of advanced technologies will drive the market during the forecast period.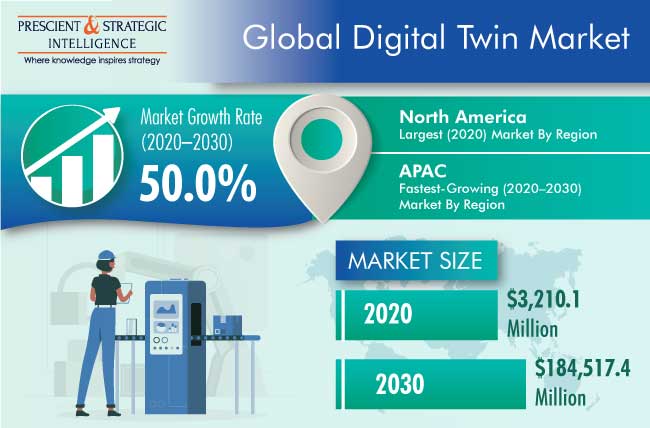 In 2019, Gartner suggested 75% of organizations would be implementing digital twins within the next year. Accenture has positioned digital twins as one of the top five strategic technology trends to watch in 2021. The promise of digital twins lies in improving collaboration and workflows across different types of groups — like product design, sales, and maintenance teams — and engineering disciplines. When it's done well, it can deliver fantastic results.
Accenture worked with Unilever to build a digital twin of one of its factories. The digital twin allowed different experts to analyze various trade-offs in fine-tuning the factory while minimizing the risk of new problems. They were able to reduce electricity costs and increase productivity. Despite these early gains, many of these successes have been within a limited domain constrained by the technology platforms or systems integrators.
Although the digital models themselves are getting better, figuring out how to share models across applications is a bit trickier. Different types of applications optimize the data collection process and the data models for specific use cases. Look at PLM (product lifecycle management) vendors like Siemens, PTC, and Dassault are buying up and building out rich ecosystems of tools that facilitate the exchange of digital twin data across the product lifecycle.
These tools work well when enterprises buy them all from one vendor but passing digital twin models between apps from different vendors leads to less integration. Various standards groups have been working to help streamline this process. The ISO (Intl. Standards Organization) has been working on developing a variety of standards for digital twin manufacturing, reducing data loss during exchanges, and promoting business collaboration.
Visionary leaders who work out the kinks to scaling digital twins may see a significant competitive advantage. Accenture's Technology Vision 2021 report predicted, "The businesses that start today, building intelligent twins of their assets and piecing together their first mirrored environments, will be the ones that push industries, and the world, toward a more agile and intelligent future."
Thirteen percent of organizations implementing IoT projects already use digital twins, while 62% are either in the process of establishing digital twin use or plan to do so, according to a recent IoT implementation survey by Gartner. A key factor for enterprises implementing IoT is that their digital twins serve different constituencies inside and outside the enterprise. Some 54% of Gartner's respondents reported while most of their digital twins serve only one constituency, sometimes their digital twins served multiple; nearly a third stated that either most or all their digital twins served multiple constituencies.
When an organization has multiple digital twins deployed, it might make sense to integrate them. Despite this setup being very complex, 61% of companies that have implemented digital twins have already integrated at least one pair of digital twins with each other, and even more—74% of organizations that have not yet integrated digital twins—will do so in the next five years.
While manufacturing has begun to embrace digital twin technology, construction remains largely a 2D industry and one that seeks technological innovation slowly. With 3D visual digital twin technology, off-site experts now have access to on-site views into the nitty-gritty of projects.
This past year saw many cloud vendors bring out niche solutions for digital twins. AWS, a division of ecommerce giant Amazon, launched Fleetwise and TwinMaker, aimed at providing efficiencies to vehicle fleets and industrial equipment. Looking forward, the ability for different digital twins to interact and share information with each other will be crucial for 2022 claims Indian firm TechCircle. Data interoperability becomes a key task in order to make the entire ecosystem more conducive.
At least eight different groups are seeking to solve issues of digital twin interoperability. This could eventually lead to engineers and designers having more time to create applications from approved and pre-built components, hence allowing for easier integration, and more importantly, less time to build applications. Eventually this could lead to solving issues related to bottlenecks in the supply chain and provide a better environment for multiple industry participants to roll out new solutions.
Want to tweet about this article? Use hashtags #construction #IoT #sustainability #AI #cloud #edge #futureofwork #infrastructure