Electric vehicles—trucks, cars, buses, and even scooters—are getting a lot of publicity lately. The recent laws, state and federal, aimed at mitigating the country's emissions problems all focus on getting more EVs (electric vehicles) on the road, replacing internal combustion and diesel engine vehicles. Many construction firms are publishing both medium-term and long-term targets to reduce their contribution to greenhouse gas emissions, outlining their commitment to support international efforts to mitigate global climate change.
The IEA (Intl. Energy Agency) estimates that the construction industry is responsible for approximately 20% of global emissions when the production of building materials (cement, steel, glass, etc.) and infrastructure construction projects are included. However, the carbon dioxide emissions from off-road construction vehicles account for only around 1.1% of global emissions while crew trucks, light-duty vehicles, and personal vehicles driven to and from jobsites add much more to the total.
A major problem with putting more EVs on the road is the lack of viable infrastructure to support them. Charging stations at reasonable intervals are required to sustain the growing fleet of EVs while giving the operators confidence that their investment will make it to the jobsite and back. While waiting for governments to respond to that need, companies are investing in setting up their own network of stations.
Lafarge Canada, a member of Holcim Group, has announced the opening of the company's first four Electric Vehicle Charging Stations in Canada at its Kent Ave Ready Mix Concrete Plant in Vancouver, British Columbia. The project was initiated in March of 2022 by Lafarge's Vancouver team with support from Lafarge Canada for secured funding of $50 thousand and an additional $20 thousand from the CleanBC Go Electric Vehicle charger rebate program administered by BC Hydro.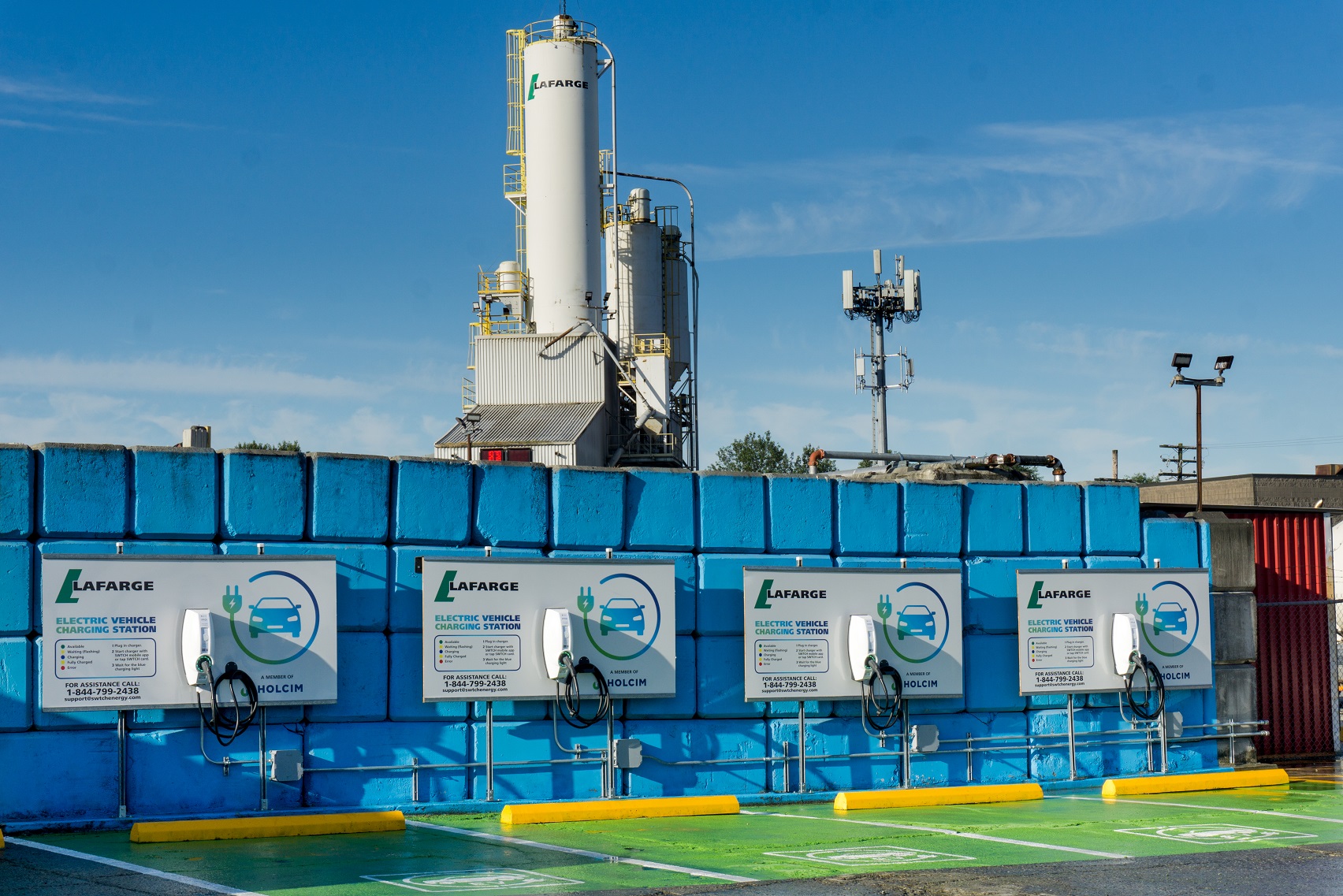 Workplaces in British Columbia can get a rebate of up to $2,000 per charger to purchase and install eligible Level 2 networked EV chargers for employee use. The Kent Ave charging stations are the first of 100 planned for installation at 30 sites across British Columbia, Alberta, Saskatchewan, and Manitoba to create the infrastructure to support Lafarge Western Canada's transition of its light-duty vehicle fleet to electric vehicles by 2025. The fleet initiative creates the potential to eliminate 188 tons of carbon dioxide emissions over the next five years.
The Kent Ave stations are accessible to all employees who drive electric vehicles or would like to transition their personal vehicle to electric or hybrid models. The migration to electric vehicles is in line with Holcim's (U.S. and Canada) overarching goal to reduce indirect carbon emissions from sources like transportation (Scope 3 emissions). By investing in emerging technology, Lafarge Canada is progressing towards generating benefits for people and the planet.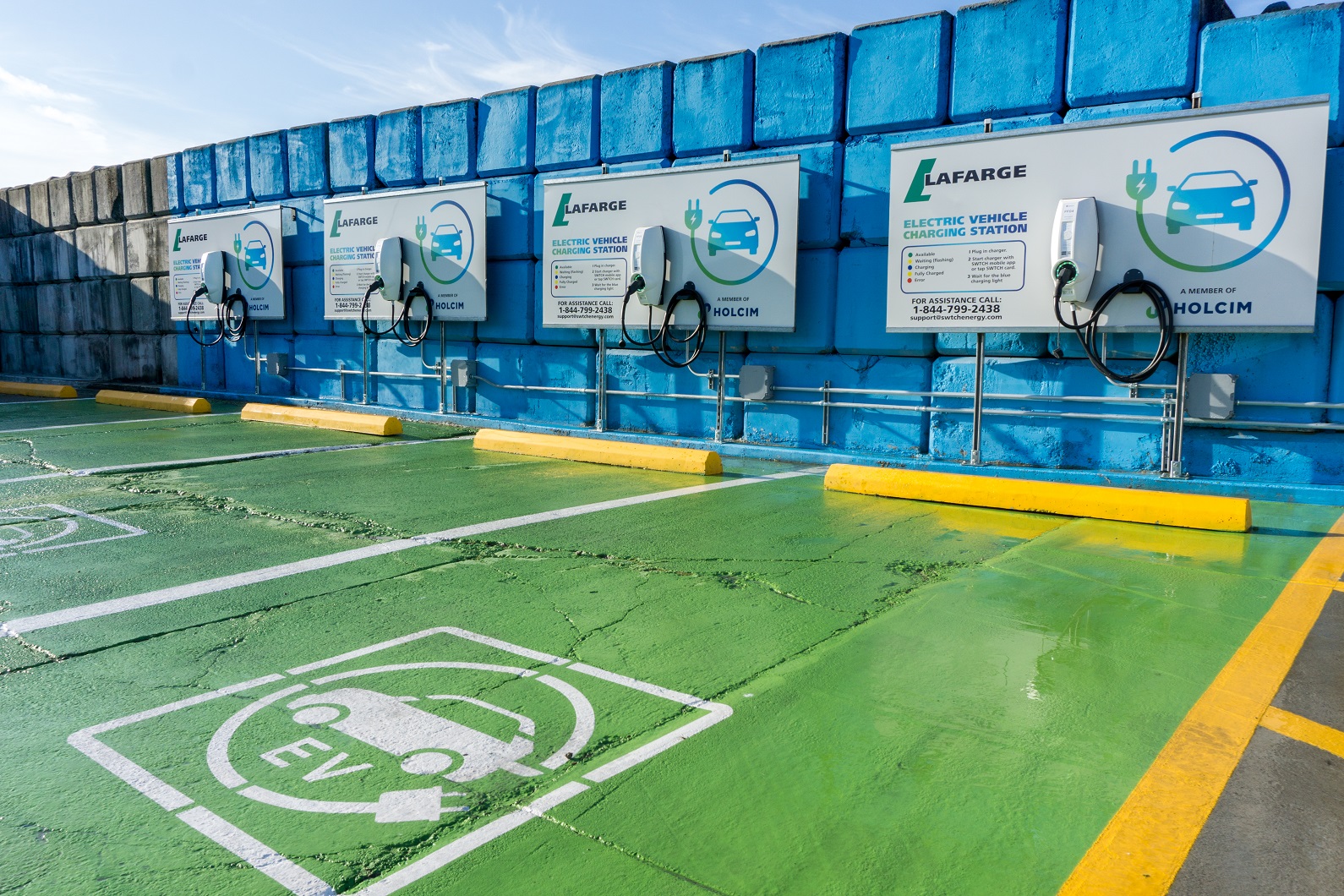 Scope 1 emissions refer to direct greenhouse gas emissions from sources controlled by an organization, for example from the combustion of diesel fuel in company machines. Investment in zero-emission construction machines, replacing fossil fuel-powered excavators, loaders, and cranes, will be critical to every construction company's effort to reduce their Scope 1 emissions.
Though construction vehicles lack the regulatory requirements of exhaust GHG (greenhouse gas) emissions to force manufacturers to move toward zero-emission machines, broader commitments to climate change are already spurring countries and companies to act. Health and safety concerns like the impact of diesel particulate exhaust emissions and loud noise on construction workers health could be equally important drivers for machine electrification.
 The IDTechEx report, "Electric Vehicles in Construction 2022-2042," forecasts the electric construction vehicle market to grow rapidly over the next decade, with a CAGR of 37.6%. The electrification of mobile construction machinery offers construction companies a relatively near-term opportunity to demonstrate their environmental credentials.
While regulatory pressure in on-road vehicle markets has driven improved fuel efficiency, reduced tailpipe emissions, and is driving a market shift towards electric vehicles, emission legislation for NRMM (Non-Road Mobile Machinery) is targeted at the emission of local air pollutants (such as nitrogen oxides, carbon monoxide, and particulates), but does not regulate greenhouse gas emissions (e.g. carbon dioxide).
Introducing fuel consumption and carbon dioxide emission standards such as those for the heavy-duty on-road market would be beneficial to the uptake of zero-emission off-road machinery. However, given the considerable time it would take to update the NRMM emission standards, other mechanisms for incentivizing zero-emission machines will need to be found.
At the highest level, pressure to reduce the greenhouse gas emissions from the construction industry is being driven by national environmental policies. Oslo, the capital of Norway, is notably promoting green construction. In 2019 they established the first zero-emission urban construction site, and from 2030 onward, they will, along with six other major cities in Norway, ban non-zero emission machines from construction sites. Norway's strong policy has spurred the development of many heavy-duty electric construction vehicle prototypes in Europe.
The 2015 Paris Agreement has seen many countries commit to reducing the emission of CO2, with many having set timelines for net zero emission (Germany 2045; UK, U.S., and Japan 2050; China 2060). To encourage the change to zero-emission construction machines, governments must support the transition away from fossil fuels with economic incentives, including offering subsidies and tax breaks on electric machine purchases.
Of fundamental concern for construction firms should be the health of their employees. While improving worksite air quality by eliminating diesel particulate emission is a key benefit, noise reduction is also a positive driver for the electrification of construction machines. Electric machines are considerably quieter than combustion engines. Doosan Bobcat, for instance, suggests that the noise level of their E10e mini excavator is around half that of a similar diesel machine.
With the new battery powered electric concept machines from Bobcat – including the S70e compact loader and the E10e and E17e compact excavators – equipment owners can achieve zero local emissions and lower noise levels. Most importantly, performance is comparable to that of diesel machines virtually anywhere – including indoor demolition or urban construction jobsites.
The construction industry is a high-risk industry for noise-related ill health, including hearing loss. Hearing protection is required on many jobsites, but it can hinder communication, affecting both site safety and productivity. Noise pollution is also an inconvenience for the area around building sites, and noise restrictions in urban and suburban environments limit the operational hours in which machines can operate. Zero-emission electric construction machines could both vastly improve the working environment and offer the potential for extended working hours.
Want to tweet about this article? Use hashtags #construction #sustainability #infrastructure #futureofwork