Smart homes are a reality and a concern. A basic aspect of "smart homing" is that the house and its many smart appliances and functions are connected via the internet, either for diagnostics or remote monitoring or for automatic resupply—the talking refrigerator effect. And while the technology is available to meet most demands, the end user—the homeowner—is not quite sold on the total package.
According to Parks Associates, a market research and analysis firm, three-fourths of respondents to a recent survey have concerns about the safety of their personal data in the connected home. In addition, their research finds 50% of smart home device owners have experienced a recent problem with one or more of their devices, with many problems related to wireless connectivity, contributing to the high return rates for these devices.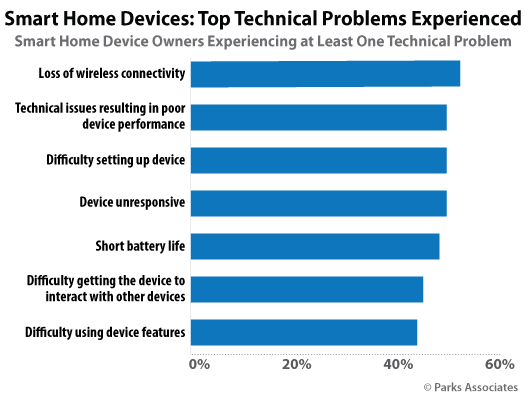 These are real problems for those who want a technical solution without being technologists themselves. Most homeowners and potential smart home buyers like the convenience but want the total package to be "plug 'n' play." Even the common starting point for upgrading the house to a smart home, the connected thermostat, is facing headwinds. Parks Associates' Smart Thermostat Market Assessment finds that adoption of smart thermostats has been flat for several years, at 13% of US internet households, despite owners reporting savings that meet or exceed their expectations. That is predicted to improve with 29% of U.S. internet households planning to buy one of these devices in the next six months.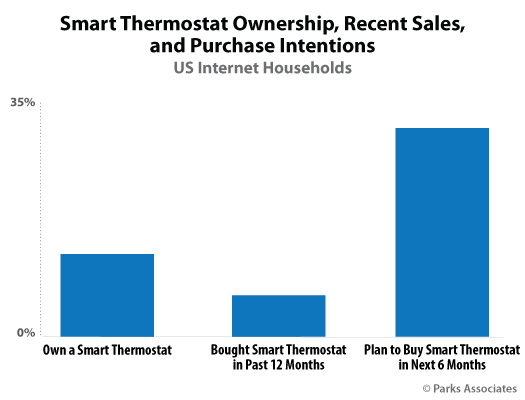 While smart thermostats are lagging, telehealth devices are a growing market, one that defies the concerns owners of smart homes voice about data leakage. New consumer data shows the continued rise in connected health devices with 54% of U.S. internet households owning at least one product and 23% owning three or more.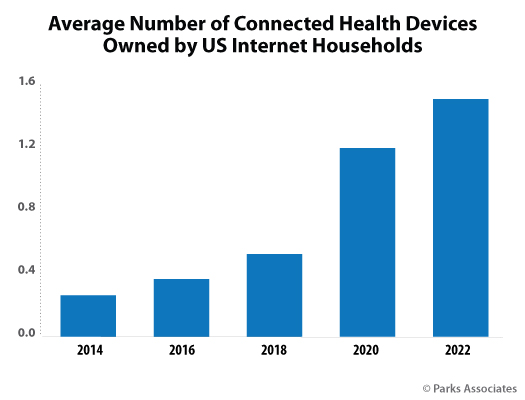 Driven by smart watch adoption, consumers and patients have become used to using devices to collect, transmit, and interpret health data. Even before the COVID-19 pandemic, remote care in the home was in accension, relying both on the quality of patient monitoring and on the quality of the insights provided to the care team and family caregivers.
Kristen Hanich, director, Broadband and Health Research at Parks Associates, relates, "The use of predictive analytics and machine learning algorithms in healthcare turn real-time data into actionable and potentially life-saving insights and diagnostic support." Parks Associates reports that 57% of consumers find sharing device health data appealing and more than one in three seek care providers who offer this.
These systems are even more powerful when combined with edge computing, which offers ultra-low latency, high reliability, and data privacy/security benefits over cloud-first systems. Further, low-powered edge AI solutions can be tailored for the many battery-powered health IoT sensors and devices that need intelligence, security, and low power consumption.
Parks Associates relates that while consumers are willing to transmit data remotely to their doctors, they are very concerned about the security of the rest of their data. Surprisingly, they are very fatalistic about this topic—almost two-thirds of consumers feel it is impossible to keep data completely secure. The proliferation of apps and connected devices creates many new avenues for data to leak out of a household, often just by accident or through an unpatched error, so the pressure is on device manufacturers and ISPs to ensure their solutions retain high standards in data and privacy protections for the life of their product.
As threats continually evolve, home computer protection is no longer enough. All internet-connected devices need to be secured as well. Dan Berte, Innovation and IoT specialist at Bitdefender, acknowledges that "…identity theft remains one of the most harrowing threats, with the ability to inflict direct damage on personal finances, from new cards being opened and used without proper authorization, accounts drained, and diminished credit scores that will impact access to more credit."
Today's technology consumer is not passive when it comes to problems associated with their smart home. Parks Associates reports that between 2-4% of U.S. internet households returned at least one smart-home device in the past 12 months, high return rates when you consider the purchase and adoption rates are still in single or low double digits.
A poor early experience impacts future consumer attitudes, as 13% of consumers report they are not likely to purchase a new product from the same brand if they return a product from that brand. Why such a high rate of returns? Consumers report the main reason for smart home returns were "the product did not work as advertised" and they had "difficulty with the physical installation," indicating more work needs to be done to improve consumer education, setup and installation processes, and product connectivity.
Additionally, more than one-half of Wi-Fi network owners report some network problem over the last 12 months, including slow speeds and lost connections. "Smart home devices often get returned for reasons that have nothing to do with the device itself," according to Jason Moore, CEO of RouteThis.
He continues, "In reality, over half of the issues these devices experience is related to the consumer's home Wi-Fi. So, when it comes to building brand loyalty, smart home brands first need to consider what they can do to better resolve and assist customers with these issues."
Suggestions being made for manufacturers and dealers, which also can be valid for contractors, include focus on the installation and setup procedures to make them easier to understand for non-technical users, be proactive in regard to connectivity issues to head off common complaints, and be ready to provide technical services and tools to "make it right."
Remember, a warranty is only as good as the company behind it; make your company the one the customer returns to not the one they return your products to.
Want to tweet about this article? Use hashtags #construction #sustainability #IoT #AI #cloud #edge #futureofwork