Smart homes are becoming both popular and flexible. Buyers can choose from a long menu of options to be installed in a new construction, a remodeling project, or just added at random. The market presents options for every area of the home and buyers are warmly adapting to these choices.
A new whitepaper, Value Beyond Home Security: Expanding Product Ecosystems, from Parks Associates, a woman-owned and led international market research and consulting company, finds "peace of mind" is a key driver for smart home adoption, with 31% of recent buyers citing this factor as a top benefit influencing their purchase. The whitepaper, developed in partnership with Alarm.com, finds consumers are increasingly reliant on connected devices and security services to deliver peace of mind in and around their home, driving the expansion of professional services beyond home security.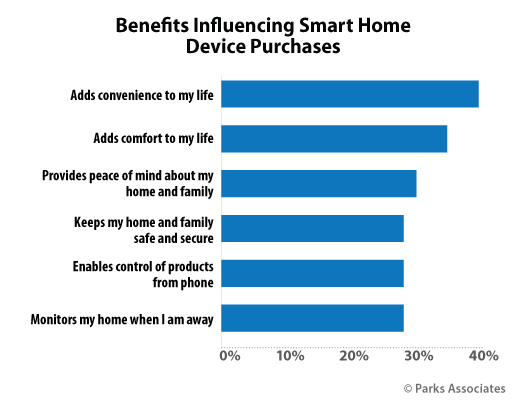 The report indicates 23% of home security system owners want to extend their system to protect their yard and outdoor items, while 69% of home security system owners are interested in vehicle monitoring as an add-on for home security systems. This indicates that expanding beyond the home will also improve consumer engagement with their systems.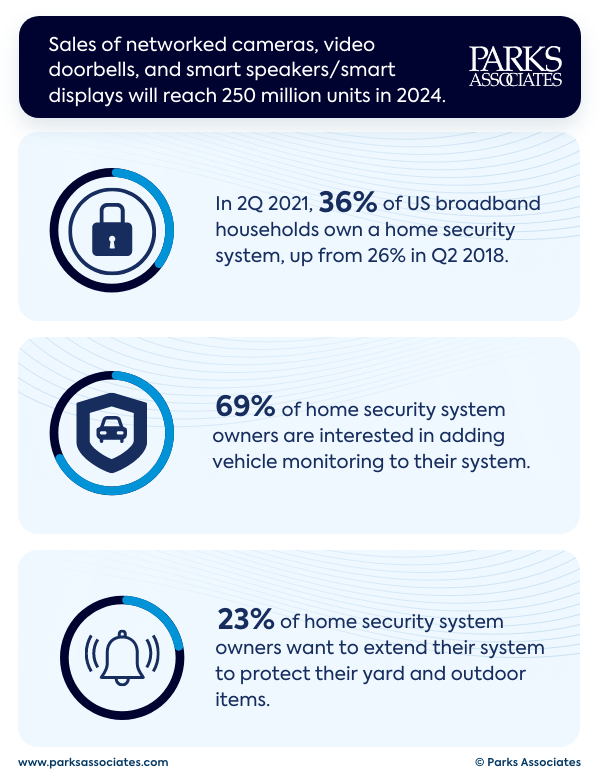 According to Parks Associates, as connected device adoption increases, device manufacturers and service providers have a tremendous opportunity to provide new and valuable experiences to consumers. New monitoring services, including loss prevention for devices, PERS (personal emergency response system) enhancements, and monitoring of vehicles, appliances, energy usage, indoor air quality, and valuable assets, will continue to grow in the coming months and years.
As the technology used in smart homes and security systems grows in complexity, consumers opting for professionally installed and monitored systems rely on their providers' expertise for configuration and support. Security providers can diversify their consumer base by expanding solutions to integrate new home services designed around safety and security value propositions. Parks believes the future is bright for those companies that recognize the opportunities to create additional stickiness and engagement through new services that highlight safety and security value propositions.
Suppliers and installers should also be aware that the same homeowners who seek security systems are finding that they don't always work as promised and that can cause additional problems, particularly to the vendor's reputation.
Parks Associates' research, Quantified Consumer: Alerts and Alarms: Consumer Perceptions of Security Event Management, showed 48% of security system owners report that their system triggers too many false alarms. The research explores consumer attitudes, preferences, and experiences in security event management among households with professional monitoring.
As Parks Associates points out, false alerts can generate fines and frustrations for users. False alerts, caused by harmless factors like children or pets, can devalue the security system in a number of ways. Users can get in the habit of ignoring or disabling triggers. Resulting fines from unnecessary runs by a city's emergency responders, which are on average nearly $150, also add to the cost of owning the system.
Parks Associates finds 62% of security owners report their system triggered at least one false alarm in the past 12 months. Among them, the majority paid a fine, although there are some state-led and municipality-led initiatives to fine security providers instead of home dwellers for false alarms.
Many also require some form of prior verification of a real emergency before contacting emergency responders. While the security industry has successfully lobbied seven states so far to pass laws banning local municipalities from fining security providers, the best outcome for all is to reduce and ultimately eliminate false alarms.
The development and integration of AI (artificial intelligence) and video verification solutions are important initiatives in the industry to reduce false alarms and obviate the need for such laws. Monitoring providers like Rapid Response Monitoring and Noonlight increasingly use AI-powered video verification to verify an alert is real before the alert is sent up to monitoring personnel, which is helping to drive ever lower priced monitoring services.
 Want to tweet about this article? Use hashtags #construction #IoT #AI #cloud #edge #futureofwork